Google Ads Management Agency Abbotsford
We focus on leads and sales; not clicks and impressions. Experienced Google Premier Partner for Google Ads management for better conversions, & lower cost per click.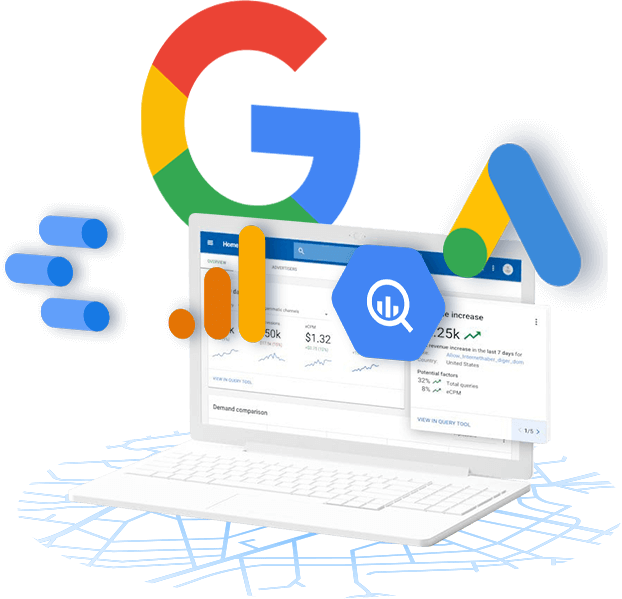 GET THE RESULTS THAT MATTER TO YOU
Grow online sales, booking submissions, leads, or newsletter signups with targeted Google Ads that direct people to your website.

Increase calls that actually convert using the Google ads call button feature that allows clients to click your phone number.

Get more customers at your store with Google Ads. Show up on Google Maps when customers need you.
WE FOCUS ON THE METRICS THAT MATTER.
When it comes to PPC marketing, Google Ads is the best known and most widely used form of PPC advertising. Why? Well, it really works. Google Ads is used by businesses of all shapes and sizes and our team knows exactly how to harness this platform for incredible results. When used right, Google Ads can help get you a high ROI and position you to take advantage of the millions of people who use Google every day. Of course, there's a bit of an art to getting your Google Ads campaign just right which is where we comes in!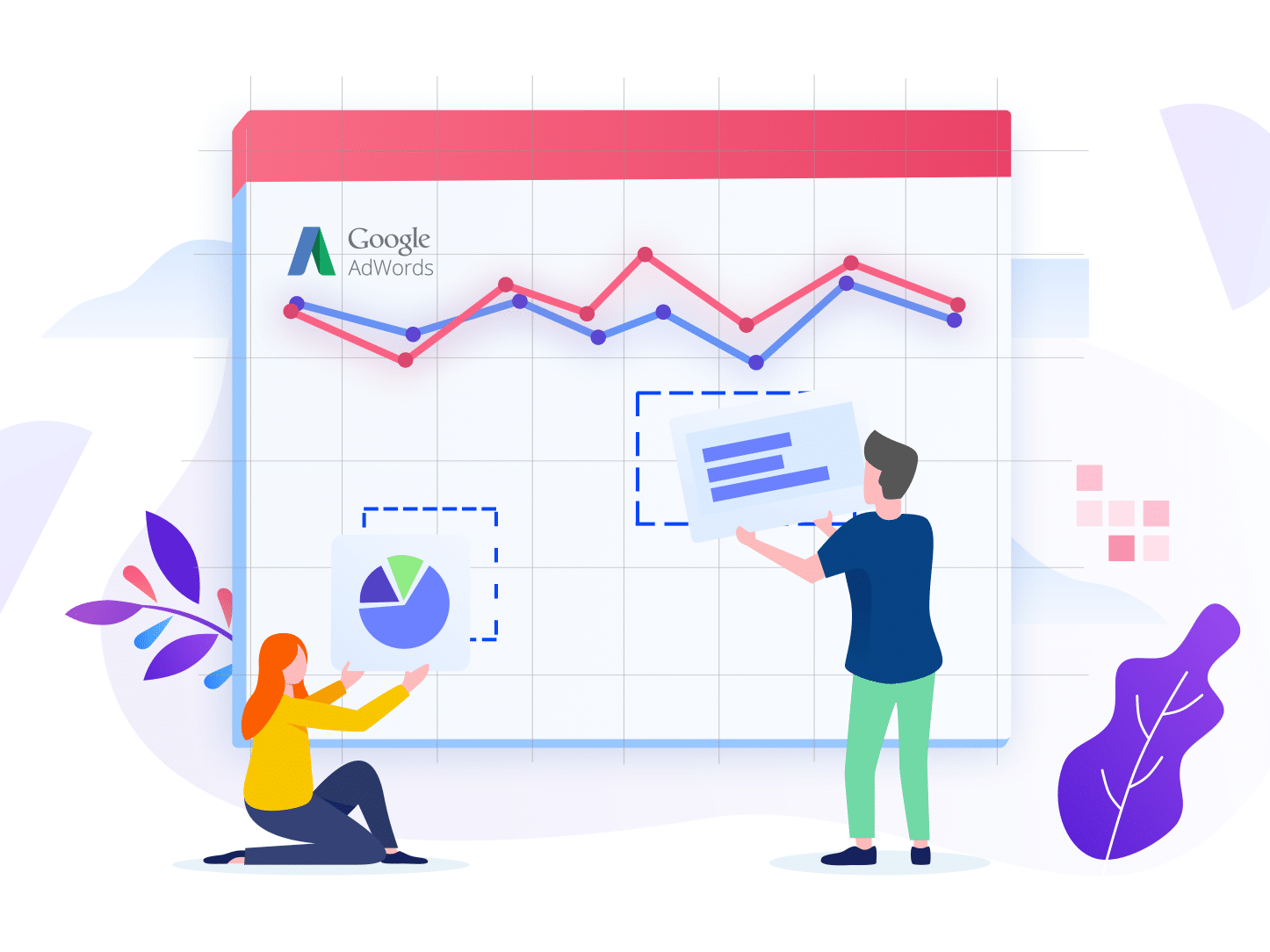 WHAT WE SPECIALIZE IN?
Pay Per Click Ad Types
We can help with all forms of Google advertising:

SEARCH
Advertise your product or service in search engine results and local map listings.

DISPLAY
Advertise your business with banner ads across a huge network of websites.

SHOPPING
Advertise your products on the Google shopping network. Drive ad clicks to your product pages & grow your e-commerce sales.
REMARKETING
Show ads to people who have recently visited your website.
REAL BUSINESSES. REAL RESULTS. REAL ROI.
OUR GOOGLE ADS MANAGEMENT SERVICE INCLUDES:
ANALYSIS
We will thoroughly analyze your business goals as well as the demographics and media habits of your target customers. A better understanding of your prospects will enable us to come up with creative keyword directions, yielding a higher ROI and a lower Cost-Per-Click.
CAMPAIGN SETUP
We will create highly focused Ad Groups utilizing unique account structure optimization approaches to achieve ultimate Ad performance. We will optimize keywords, match types, geo-targeting, campaign & Ad Group negative keywords to create an efficient and ROI-driven campaign.
AD COPYWRITING
Our professional Copywriters will create eye-catching, highly converting, policy compliant, and quality score optimized ads. By delicately balancing your Ad's quality score, call-to-action elements, and keyword targeting relevance, we generate highly converting traffic.
LANDING PAGES
We will create landing pages to target specific Campaigns & Ad Groups. It is paramount to have a high-quality score to succeed in competitive markets. Our landing pages have a high AdWords quality score and are optimized with highly converting call-to-action elements.
CONVERSION TRACKING
The success of your Google PPC campaign is measured by the number of conversions. That's how many people call your business or fill out the contact form. Tracking conversions helps reveal how effective the Ad campaign is running and helps us optimize bids, ad text, and keywords.
24/7 MANAGEMENT
Google Ads campaigns need to be managed and adjusted constantly. If an Ad Group starts underperforming it needs to be optimized or taken off-line. Our 24/7 Ads management service will ensure that your advertising dollars are not wasted and your campaign is running 24/7.
NUMBERS THAT MATTER
You want to work with the Best Abbotsford PPC Management Agency. Get a wider coverage of the web with PPC services that are designed to the finest detail, to attract wallet-out prospects at the perfect time in their buyer's journey. Achieve fast sales and long-term results to drive revenue.
OUTDOOR RENOVATION SPECIALIST
ECONOWISE SUNROOMS & PATIO COVERS
Google Ads have been a strong performer for Econowise Sunrooms & Patio Covers, despite the fact that the outdoor renovation industry is well-known for its high average Cost Per Click (CPC) on ads. Our team was able to develop a successful strategy, targeting niche products that were less competitive but still offered an opportunity for positive returns. In less than one year, Google Ads generated 980 leads for Econowise Sunrooms & Patio Covers. Over 50% of these leads came from contact form completions, with the remainder of the leads coming from phone calls from the website or ad extensions.
FREE PPC AUDIT
Schedule Your Free 30-Minutes Strategy Session with our PPC Expert
ADDITIONAL QUESTIONS
Google Ads Frequently Asked Questions
Do Google Ads work for small businesses?
When used correctly, Google Ads can be effective for small businesses. They can help you precisely target your audience and quickly drive conversions. With a strong value proposition, landing page, and the right keywords, Google Ads can help you grow your business.
What does a Google Ads Agency do?
Your Google Ads agency Abbotsford takes over the end-to-end management of your Google Ads account. It helps you to get better results out of your campaigns by constantly testing and optimizing. By using the right Google Ads agency in Abbotsford, you can significantly improve your campaign ROI.
How does PPC impact SEO?
When the powers of PPC and SEO combine, they can help you better achieve your marketing outcomes. There are many ways in which the two tactics complement each other from delivering more qualified traffic, to higher visibility in search results and a better return on investment. While it can take some time to see results with SEO, paid search is more immediate. That's why we often recommend using a PPC campaign to offset a slow start to an SEO campaign.
What to look for in a good PPC agency?
It's important to choose an agency that is agile and able to deliver tangible results that embrace your wider marketing approach. A professional who is well-versed in PPC understands the data and driving force behind successful campaigns – whether long-term or short-term. At the end of the day, your agency should be able to tell you exactly what's influencing your ROI and how it's adding to your bottom line.
What is the difference between SEM and PPC?
SEM is Search Engine Marketing – which comprises all marketing that can be related to a search engine, such as Google, Bing, Yahoo, etc. This marketing relates to search (text ads), Google Shopping ads, Ads in Google Maps, the Google Display Network, and YouTube.
PPC is Pay Per Click – which is the traditional way of paying for a search ads campaign, you jump into an auction and if someone clicks on your ad, you pay for that click. There are other ways to pay for your ads in SEM, like cost per 1000 Impressions (CPM), Cost per View (CPV), or even Cost per Conversion.