We Create Exceptional Logos
We produce professional logo designs, websites & marketing materials that help you stand out from the competition.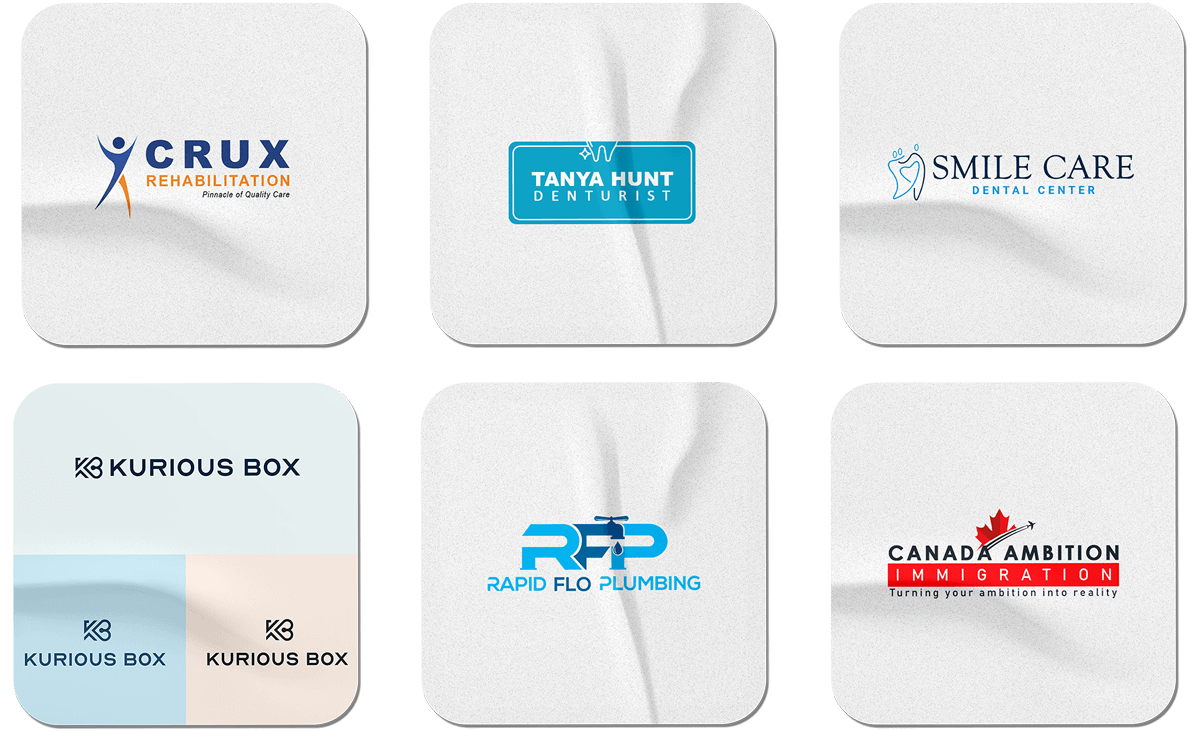 STAND HIGH ABOVE THE REST
A brand that is well designed and engaging can change the way people perceive your company, drive new business, and increase brand awareness. A company that does not invest in its logo & branding very usually struggles to connect with their customers. A good company logo is a cornerstone of your business. From your logo can flow brand recognition, marketing strategies, product lines, and many other practical concerns. The logo can even influence your decision-making process as you seek to grow your business in line with your brand's identity.
Our creative graphic design and marketing expertise combines to give your business the edge it needs. With all our services under one roof, we ensure the consistency of your brand on the web or in print. Let us help you maximize your brand's impact by making a logo that's recognizable, easy to digest, and awesome.
Abbotsford Logo Design Portfolio
At Perfect Web Creations, we design unique, simple, and memorable logo designs, which become your unique business signature that people will recognize and trust. Whether you want to portray your company as a premium or affordable or fast or whatever you like, we'll design that look for your business so that you have the best chance from the get-go. Here is the selection of our recent logo design projects.
HOW WE HELP BRANDS FIND THEMSELVES
The Logo Design Process From Start To Finish
Our logo design process follows distinct stages, which aim to add value and recognition to your brand identity while keeping the process easy and fun.

Select a package below. Complete the quick questionnaire and we will be in touch to discuss your project further.

We will send across a design brief for you to complete. We discuss your business objectives, target market, aesthetic preferences and unique positioning with you.

Based on the design brief, we will conduct research focused on the industry itself, on its history, and on its competitors.

We will begin developing your logo design concepts. We will work closely with you to ensure your new logo is a perfect fit for your business.

Congratulations on your new logo! We will send you a complete final files package and outline where each file type can be used.
Affordable & Professional Logo Design Abbotsford
View Our Logo Design Plans
We know how to create logos that are brand-backed, creative, engaging, and distinctive. It is time to kick start your logo design project.

5 Logo Design Concepts
2 Revisions/Edits
PSD .AI, .PDF, .JPG, and .PNG
7 Days Turnaround
Dedicated Project Manager
Full Copyright Ownership


10 Logo Design Concepts
5 Revisions/Edits
5 Days Turnaround
Business Card Design
$799
GOLD Includes
All Silver features


Unlimited Logo Concepts
Unlimited Revisions/Edits
In-Depth Industry Research
Letterhead Design
Brand Guidelines
$999
PLATINUM Includes
All Silver + Gold features
FREQUENTLY ASKED QUESTIONS
Questions about Logo Design
Do you provide vector versions of the logo to us?
Yep. We don't understand companies holding back designs from their clients… once you have paid us for the designs you own the copyrights to use them however you like. Once the logo concepts are approved, our graphic designer will prepare ready for print logo files in both pdf and png format so that they could be used on any print material such as business cards, embroidery, or signs. The png version of the logo can be used on your website, email signatures, and more. Your final custom logo design output can be used virtually anywhere.
Why logo design prices vary so much?
Logo designers are craftsmen. Just as artists can charge from $50 to $50,000 for artwork it all depends on the artist and the company behind the design. Our Logo design pricing is structured around for small businesses and is on the lower end which is very affordable. For very cheap logos such as the ones on Fiverr for $100, you really aren't going to get the quality you are after and possibly going to get a knockoff.
Can I give you drawings, ideas and references?
Yes, please. We will always seek information about what sorts of designs you are partial towards so the more information the better.