Shopify Website Design Abbotsford
We build custom beautiful, functional Shopify sites for small and large businesses. Let our team build your online store to streamline your online sales.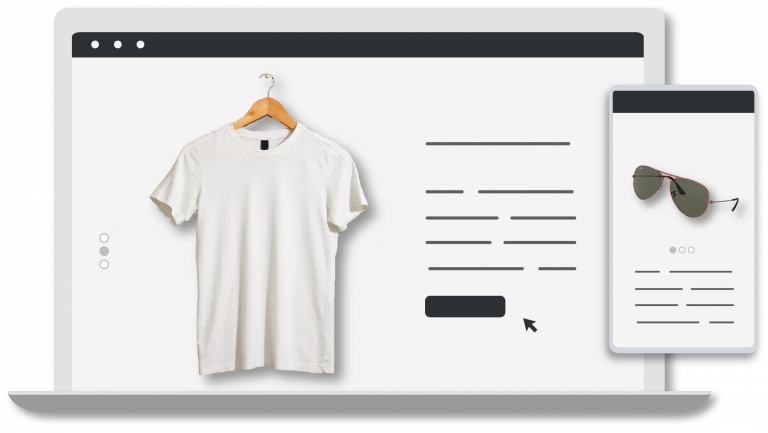 LOOKING FOR A SHOPIFY EXPERT? LOOK NO FURTHER

We'll design and set up your online store following your brand's aesthetic and Shopify's standards. This can ensure that your online store is both visually pleasing but also compatible on any device and most major browsers.
If you currently have an online store on a different platform but want to transfer to Shopify, we can safely migrate all your stored data and transfer it to Shopify.

After developing and launching your Shopify website, we can continue to provide our assistance in running your website such as security checks, speed optimization, and more.
WHAT IS SHOPIFY, YOU ASK?
Shopify is a web-based e-commerce platform that makes it simple to set up and manage an online shop, perfect for any size business. Shopify offers product inventory management, order management, content management, and payment gateway integration. Shopify provides a reliable, secure shopping cart solution for your e-commerce website. The shopping cart software allows you to accept credit card payments.
Shopify also offers a free mobile app that enabled you to manage your online store from any mobile device.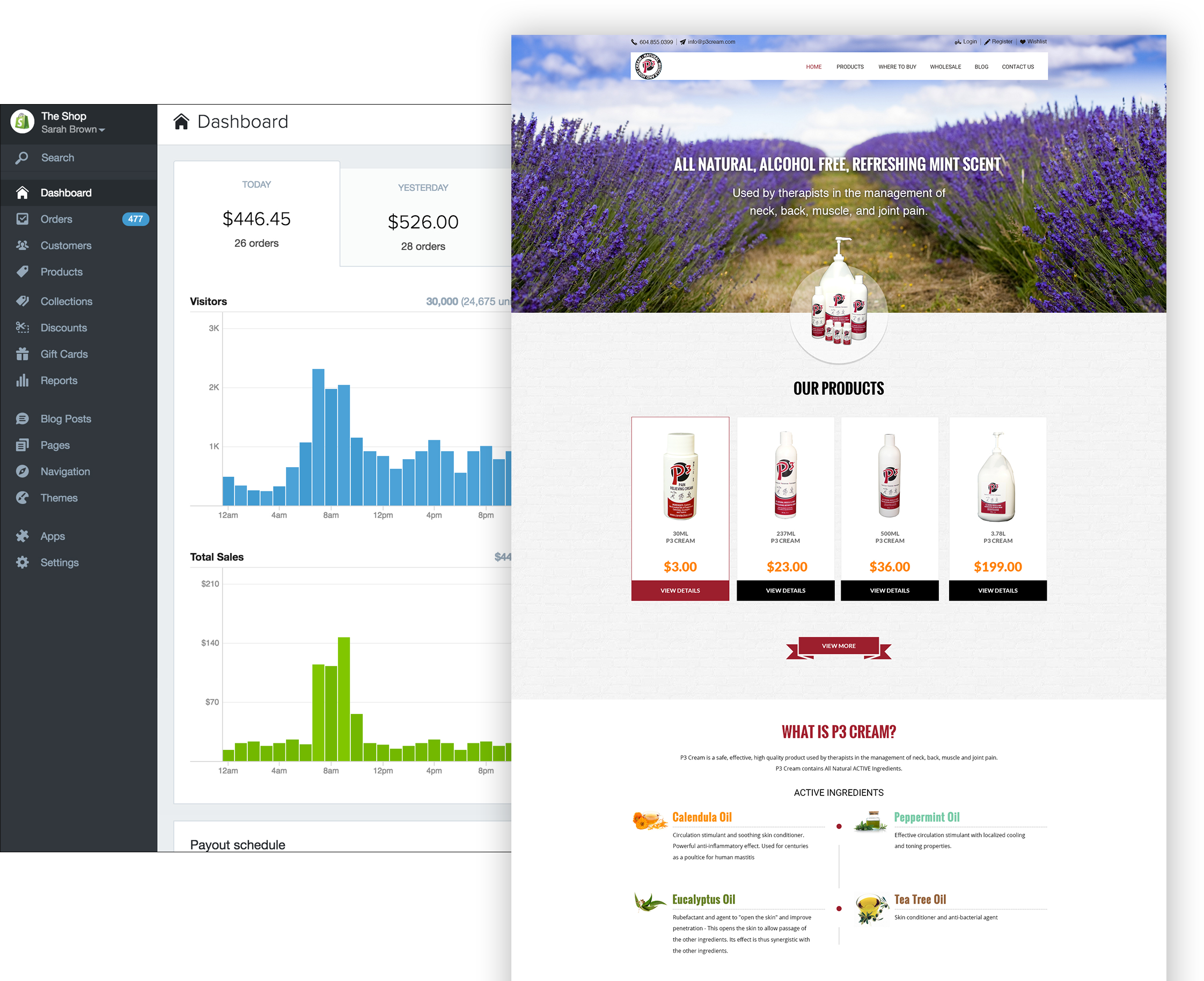 POWERFUL CONTENT MANAGEMENT FEATURES
If you have an e-commerce store, you will be dealing with sensitive customer information including credit card details, plus impatient customers. This means your site needs to be fast, secure, and always online. One of the big advantages of a hosted solution is the reliability it provides. Shopify offers the best CMS platform & takes care of all server maintenance and upgrades to keep your store and shopping cart available at all times and ensure that pages load quickly.
Stunning websites designed to maximize
impact and generate results
We take the headache out of web design from the moment you say "Hello" to the moment you have a profitable, show-stopping, professional website that's ready to go.

Stunning Designs for Everyone
We offer a superior user-experience, eye-catching designs, and complete mobile responsiveness for every website.

SEO Friendly Development
Our web design agency will help you reach the search engine results page in style with fully optimised and refreshed content.

A Custom Fit That's Made Just for You
We'll make a show-stopping website design for you that's simple, custom-fit, made-to-order, and hot off the server.

We Won't Leave You Hanging
We've got your back even after your website goes live with technical support, video tutorials, and friendly service.
PERKS OF OWNING A SHOPIFY STORE
BENEFITS OF USING SHOPIFY FOR YOUR E-COMMERCE
EASY TO USE PLATFORM
Shopify is easy to use for business owners who want to perform all their sales-related tasks under one platform. Its interface is user-friendly and intuitive to your needs.
ENDLESS DESIGN POSSIBILITIES
Shopify has an extensive range of themes to design your store's layout and aesthetic. But if you have a specific design in mind, our web designers can build it for you and our web developers will improve it.
GOOD FOR ANY SIZE BUSINESS
Shopify is a good e-commerce platform for SMEs, companies, start-ups, or individuals looking for a platform to help start their business to sell products online.
MANAGED PLATFORM
Shopify hosts your site and takes care of upgrades. Shopify has a reliable infrastructure along with optimized hardware and software. This gives the platform a super-fast loading speed and the e-commerce made on it load in a matter of seconds.
POWERFUL MARKETING TOOLS
As a complete platform, Shopify has the marketing edge too. The basic version offers SEO features along with advanced e-commerce analytics. In addition to these, it offers more marketing tools such as custom gift cards, discount coupons, store statistics, targeted email marketing, and more.
OUTSTANDING CUSTOMER SUPPORT
By choosing this e-commerce platform, online sellers can avail reliable, round-the-clock customer support. Shopify experts are available 24/7 via email, live chat, or phone to resolve any queries and keep the store running flawlessly at all times.
Our Recent Shopify Projects
We work on a wide range of projects, from smaller brochure-style websites to large corporate sites, all built on custom Shopify themes.
Looking for a trustworthy, local & skilled Shopify developer?
If you are looking for a new site, or want to improve an existing one, contact us. We'll get in touch to arrange a free initial consultation.
ADDITIONAL QUESTIONS
Shopify Development FAQ's
The most frequently asked questions about website design services.
How much does a Shopify store cost?
Shopify caters to every size of business, from selling a few items on Facebook for $29/month to servicing huge retailers who spend $20,000/month. Whether you are a small business or an already established e-commerce store looking to migrate to Shopify, Shopify has an appropriate, well-priced option to help to make your business-building goals a reality.
If you want to learn more about Shopify's pricing, checkout: https://www.shopify.com.au/pricing.
How long does it take to develop a Shopify Store?
The length of time it takes to build a website can vary from just a few weeks to many months depending on the complexity and scale of the project. If you wanted a simple store with a theme and products set up and not much else, our experts could take as little as 3-4 weeks.
But if you have an established e-commerce web store that you wanted to overhaul, bring to Shopify, with a heavily customized design and you needed the whole platform migrated and setup with backend automation, this could take 3-4 months.
How many products can I upload in Shopify?
Basically, there's no limit… No, seriously… It's unlimited. Enjoy!
Do I need a separate hosting to host my Shopify store?
No, Shopify is managed platform which means Shopify hosts your site and takes care of upgrades.
Can Shopify integrate with our accounting software or current Inventory management software?
Shopify has ready-to-go integrations with tons of popular accounting and inventory management systems. One of the biggest selling points of Shopify is how well their software is connected to existing platforms. Contact us and we can help according to your specific needs.