CASE STUDY
Smile Care Dental Center
A complete branding and marketing strategy for a compassionate dental office with a deep passion for helping patients in Abbotsford, BC.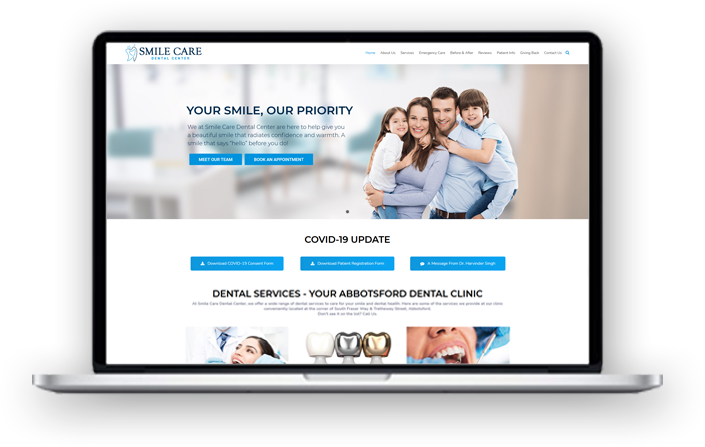 Smile Care Dental needed a fresh new website that showcased their modern, friendly office and commitment to serving families with above-and-beyond dental care.

We wanted their website to have a fresh, modern design that reflected their office culture and contemporary technology. Build trust with authentic, fun photos of the office and team.

We designed the website with user-friendly navigation to make it super intuitive for new patients to find what they needed. We optimized the mobile view to better serve the way most busy parents were interacting with their site.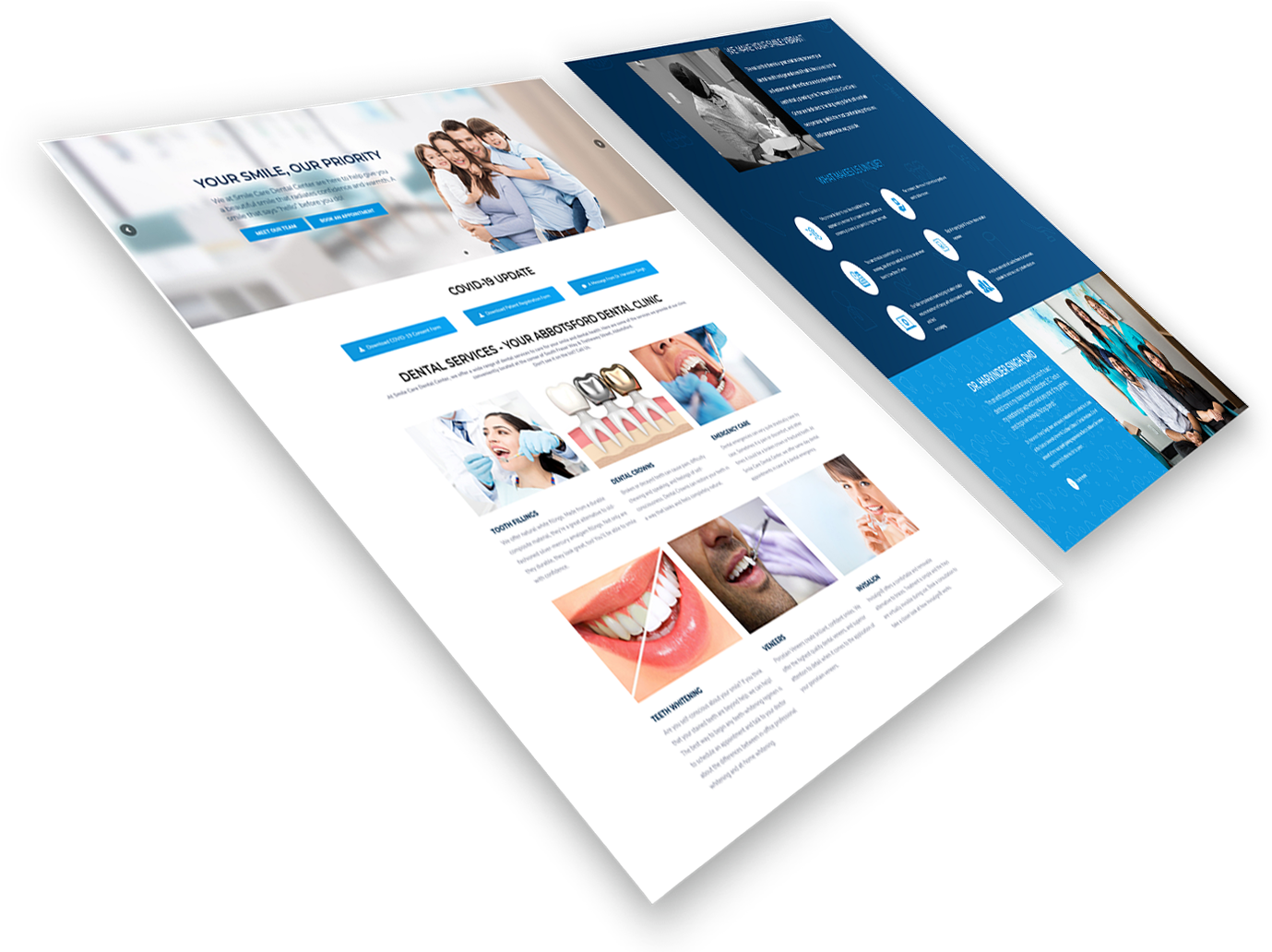 ABOUT OUR CLIENT
Who is Smile Care Dental Center?
Tina Singh and her husband Dr. Harv Singh opened a new dental practice in Abbotsford, BC in 2019 with the goal to serve the local Abbotsford community with their dental needs. Dr. Singh wants to establish a relationship with each and every one of his patients and develop lifelong bonds. Dr. Singh is dedicated to helping every patient achieve their own personal goals in the most comfortable, professional, and compassionate way possible. Since they opened their doors, they've built a reputation throughout the community of creating an honest and compassionate environment for their patients.
Dr. Singh wanted to share their patient-first philosophy online. They came to Perfect Web Creations to help launch their brand through:
A new logo design
Print Material
Launching a responsive dental website
Helping them get found online through SEO
Helping them get found on search engines through paid ads
MODERN. ELEGANT. MINIMAL.
Dental Website Design
For a clean, aesthetically pleasing look, our team incorporated large photos from their photoshoot and kept the text minimal. We created a lot of content and added pages for each category while optimizing it for SEO. We designed the site with conversions top-of-mind, pulling visitors in with compelling copy followed by book an appointment form so patients can book a consultation directly through the website.
With a modern design comes personable content. Smile Care Dental wanted their commitment to patients to shine in the content. We did just that by addressing patient barriers and how the Smile Care team helps, highlighting their amazing patient testimonials, and so much more. Dr. Singh hired a professional photographer to capture candid moments and team photos. Combined with the personalized photos and design, the custom website shines.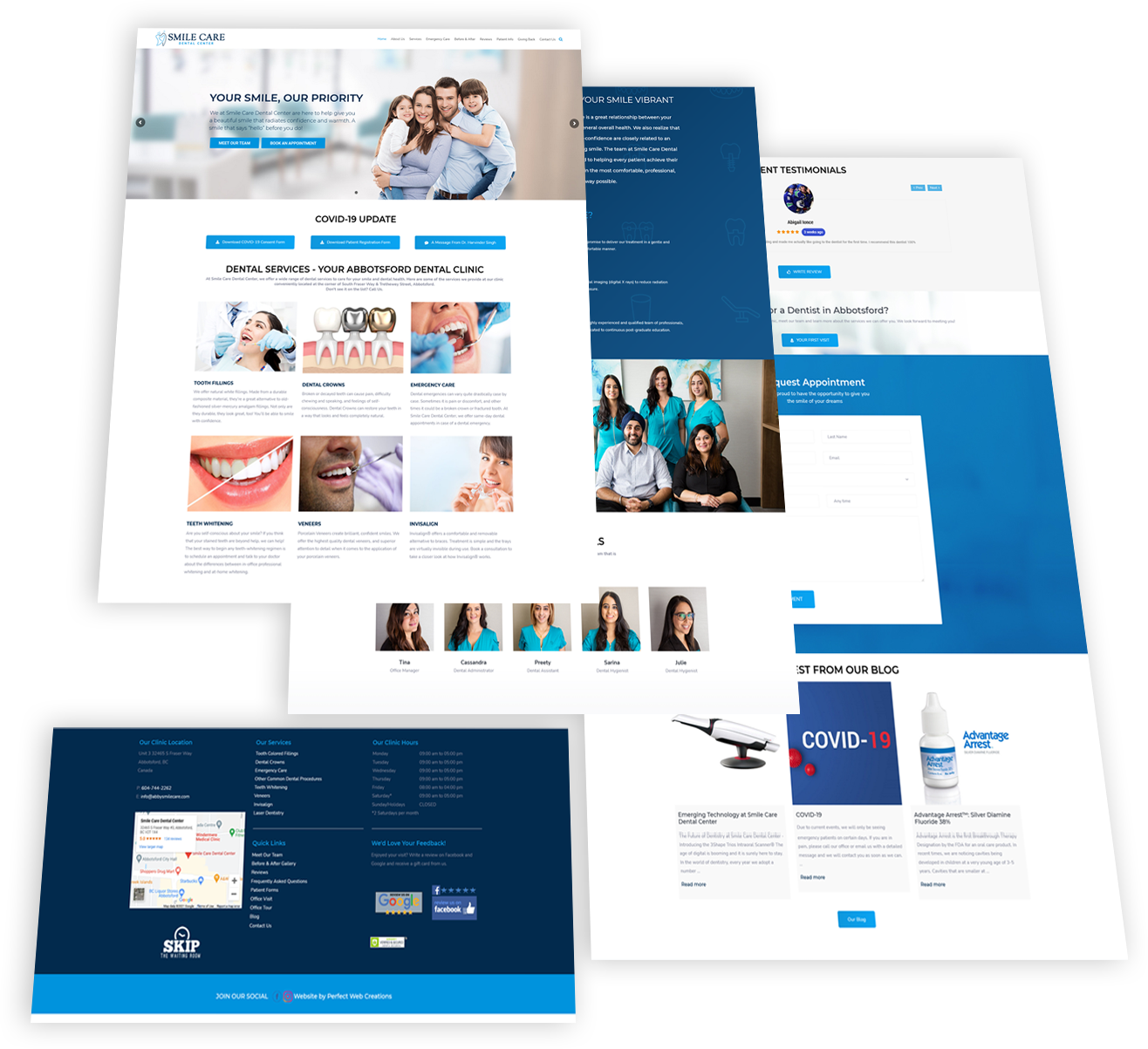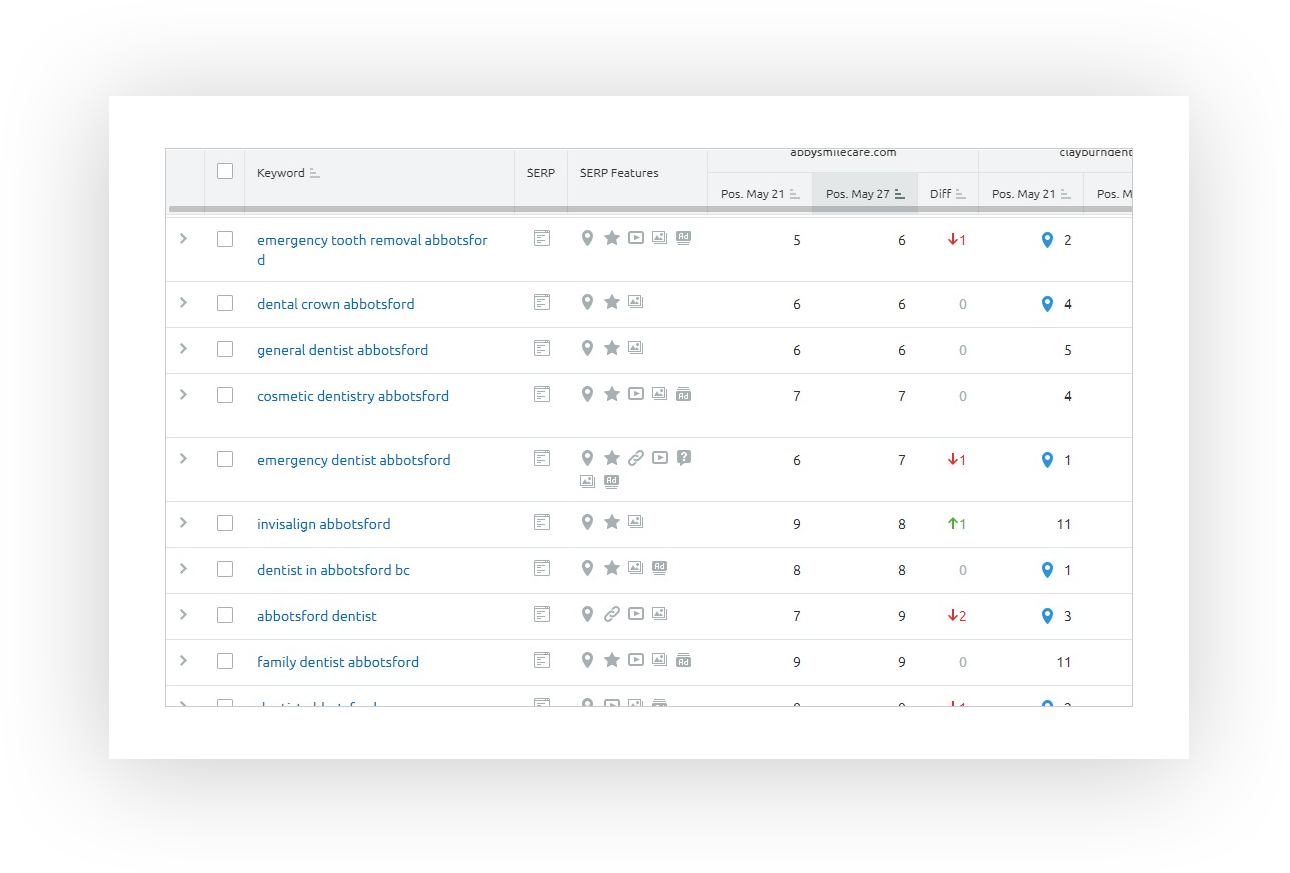 RISE IN WEBSITE TRAFFIC AND LEAD GENERATION
Search Engine Optimization
During website content development, we knew the importance of creating quality content and breaking out each service onto their own pages. We did keyword research to understand how people actually search online for the services this dental practice offered. We then started filtering the keywords out through the relevant pages to ensure all internal pages were 100% search engine friendly. So a page that discussed tooth-colored filling was greeted with tooth-colored filling keywords along with similar variations to give as many opportunities as possible to pull in traffic.
PAID ADS LAUNCH & OPTIMIZATION
Google Ads
We were able to pool together the data we've gathered from SEO efforts in order to target the highest-quality keywords while simultaneously excluding search terms that never convert well for dentists. After customizing the keywords to match the specific location, services, and hours, we then put together some copy that highlighted what was unique about the dental practice.
During the month of launch, we were able to achieve 62 leads and the client was so pumped about these results that increased the ad spent 3 times.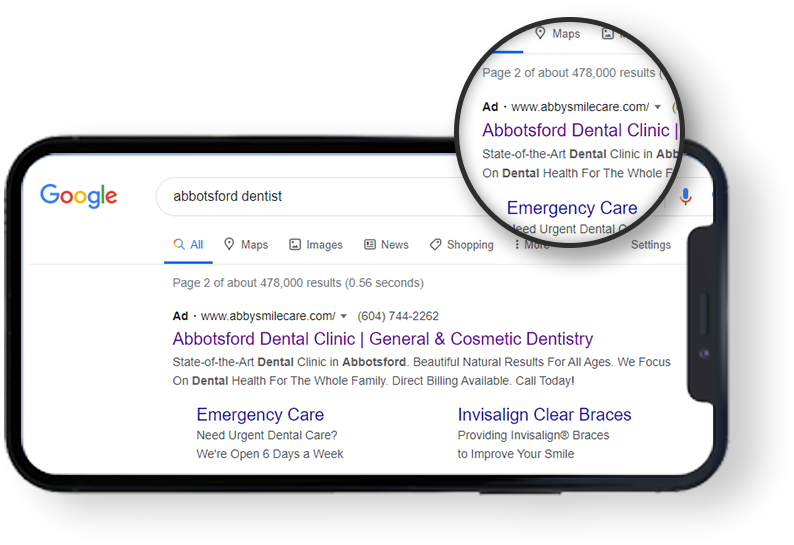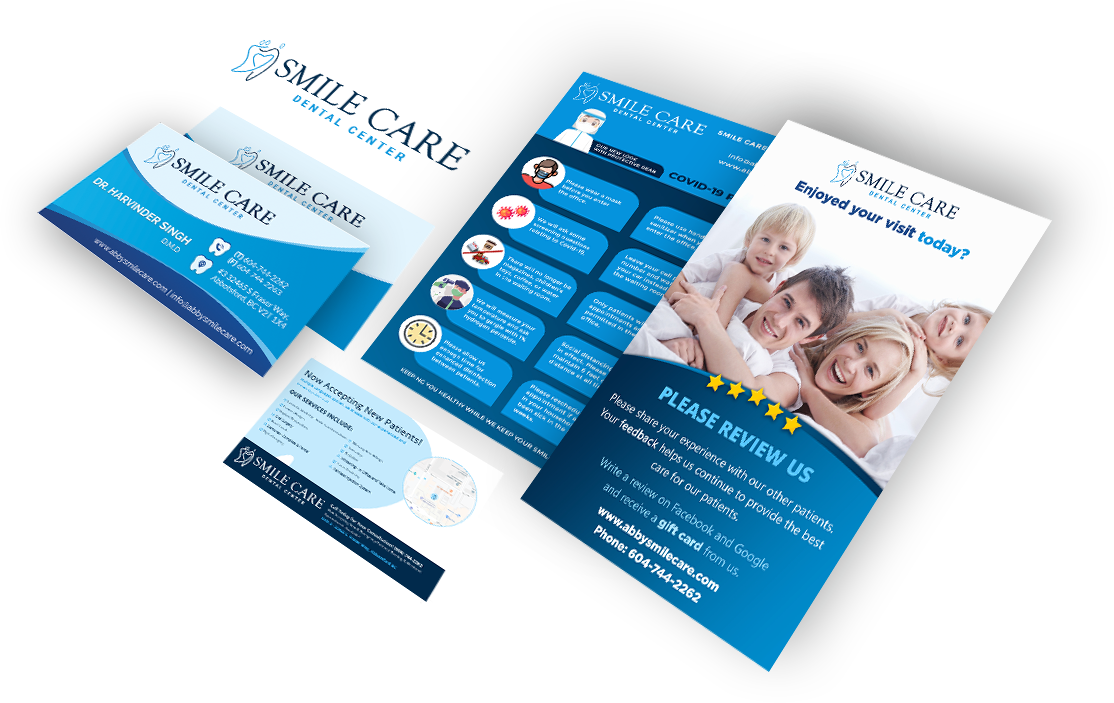 STAND OUT IN A CROWD
Branding & Print Material
From the brochures to appointment cards handed to patients by a friendly receptionist, branding is crucial and can help solidify that great first impression translating to your patients that you are a well-organized business that pays attention to detail and provides the right information.
Dr. Singh and our team worked hard to communicate that message effectively in all kinds of print materials including business cards, appointment cards, flyers, practice brochures, and much more.
NUMBERS THAT MATTER
These results speak for themselves!
Smile Care Dental Center's website saw an incredible boost in traffic and SEO power within just 90 days of launch. Their website was ranked on page 1 for most of the top searched keywords.
On Google Ads, $14K ad spent between July 2019 to July 2020 resulted in a total of 242 leads submissions and 208 mobile calls to the office and resulting in approximately $92K+ in new business. That's 6.5x Return on Investment.
Client Testimonial
Worked with Perfect Web Creations recently who guided me as I started my own Dental Clinic in Abbotsford. I was absolutely blown away with the level of service they provided me. From designing flyers, websites, posters and business cards; to marketing and SEO, this company made me feel so comfortable when I was in such stressed out situations building my practice. For 6 months, the only real trust and confidence I had, was with Perfect Web Creations. I am so thankful I get to work with them in the future. Thank you guys so much!Dr. Harvinder Singh