CASE STUDY
Jayne's Luxury Rentals
Learn how we integrated Lodgix vacation rental booking engine and custom developed a site for Muskoka's top luxury rental Jayne's Cottages.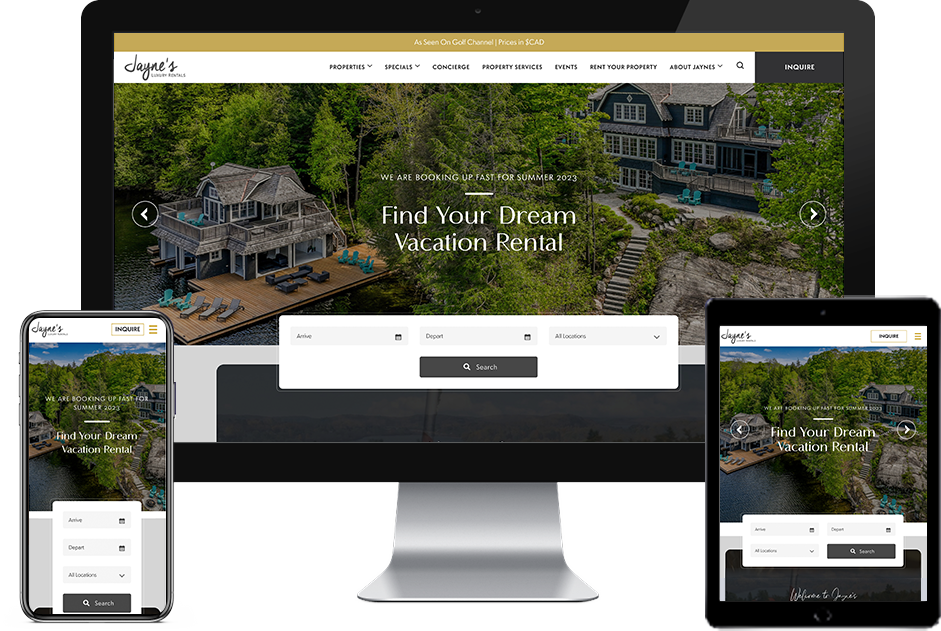 Jayne knew their website was due for an update. Their old site design didn't do their incredible brand justice. Plus, their vacation rental management system Lodgix was not updated for a while due to which managing content was difficult and time consuming. They also wanted to customize the Lodgix features according to their need.

We developed a website with attractive and a modern layout using stunning imagery of the luxury rental properties, helpful icons, and a smooth sidebar navigation. We customized the Lodgix plugin to fully meet the needs of the end-user.

The website was a success, with Jayne's Luxury Rentals online presence enhanced, resulting in increased inquiries and bookings. The website's user-friendly interface made it easy for visitors to view properties, leading to more significant engagement and conversions. They now have a stunning website that reflects its brand image and showcases its exceptional properties.
ABOUT THE COMPANY
About Jayne's Luxury Rentals
Jayne's Luxury Rentals is an award-winning company that offers the finest rental properties & concierge services throughout Muskoka, Georgian Bay, Lake Simcoe, Collingwood, Toronto, and much more! Jayne's website was a few years old and due to be upgraded. When Jayne came to us for assistance, there were multiple problems that needed to be addressed with their existing website.
First and foremost, their vacation rental management system was outdated and needed an upgrade. They also needed to customize some of the features and options available in the plugin to meet their needs. Secondly, Jayne's was also dealing with outdated web design that didn't fit the brand's "modern luxury" aesthetic and missed opportunities for organic optimization. This, together with general speed and codebase improvements, which were highly needed, were two of our top priorities.
Services Provided:
Website Strategy
UI/UX Strategy
Website Development
Website Customization
Lodgix Vacation Rental Software Customization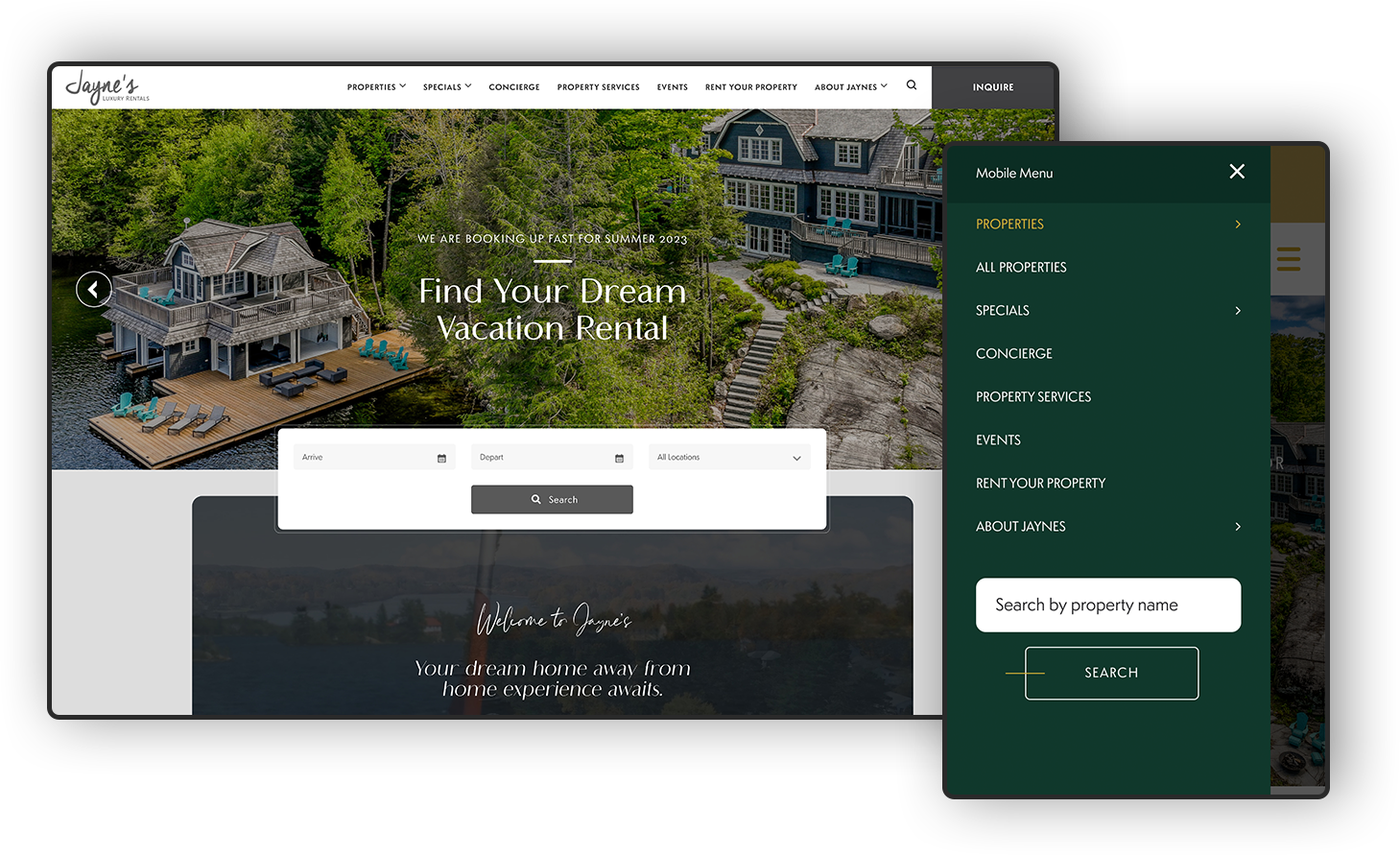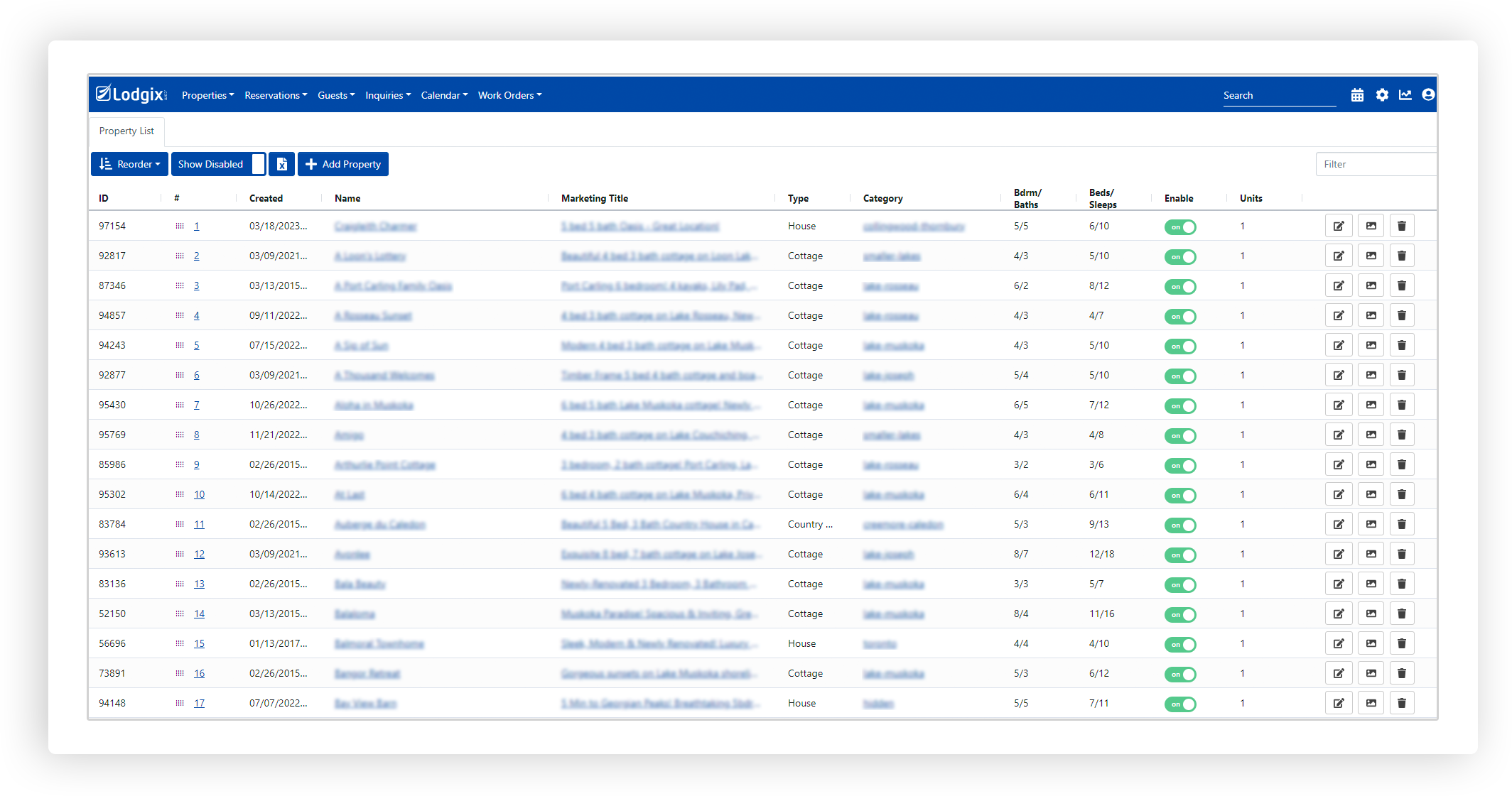 Enhancing the Online Presence of Luxurious Vacation Rentals
Some products need powerful imagery and that's definitely true of luxury vacations. Luxury Property Rental is all about selling aspirations and dreams, so we knew that we needed to build a website that could create an emotional connection with people. The content had to tell a story.
Using high-resolution imagery isn't without its challenges, though. They must look crisp on every page and align perfectly with the copy. Then there's the speed of the site to consider, which in turn affects user experience.
Jayne's Luxury Rentals & PWC team worked together to create a modern, streamlined aesthetic that appealed to its target audience. On the homepage alone, we:
Created a clearer call to action at the top at the bottom of the page to increase leads & conversions.
Implemented high-resolution imagery that allows the visitor to better relate themselves to the high-end brand.
Technical SEO was incorporated into the build by compressing the images and installing plugins to improve web speed.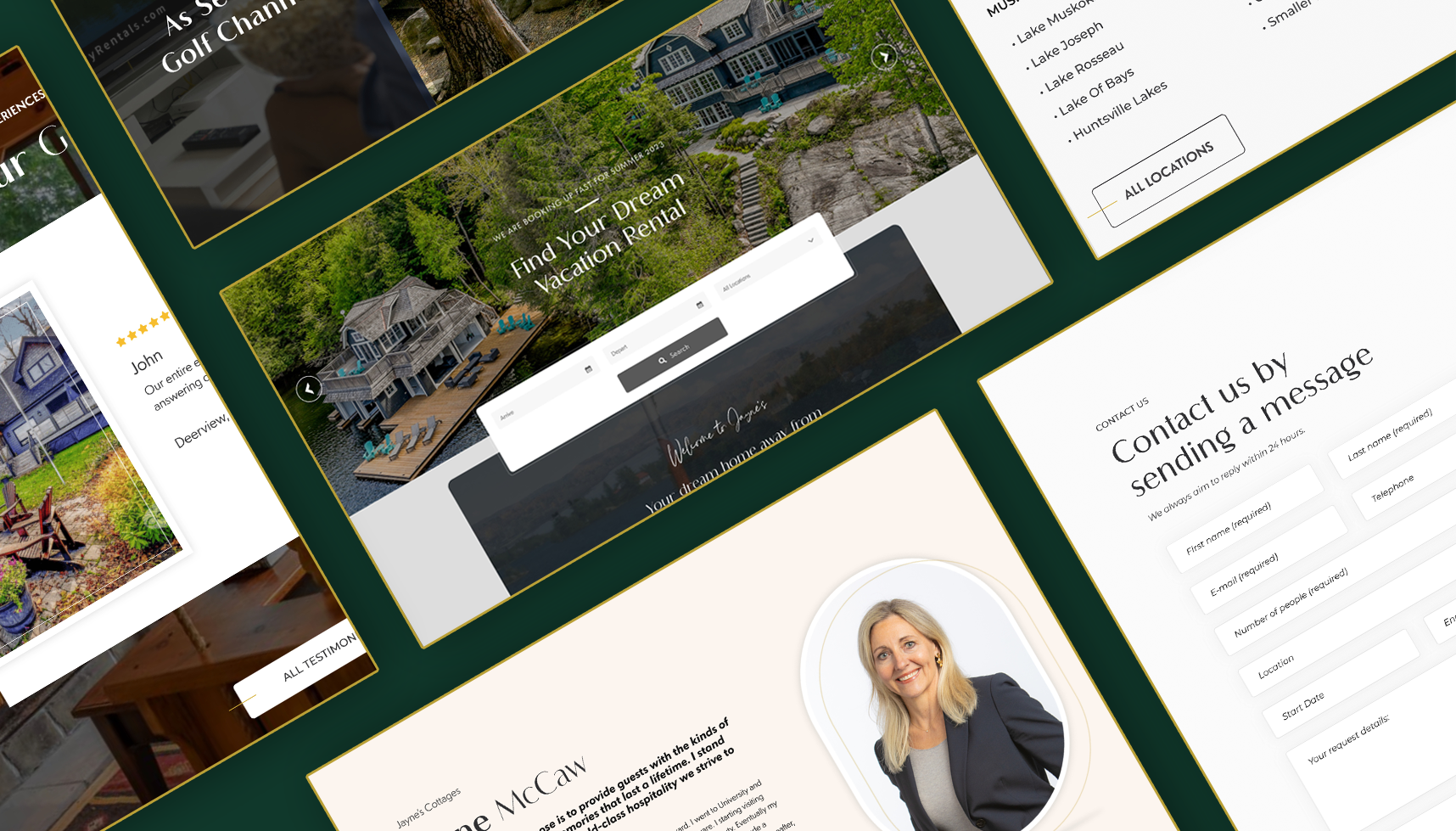 Tackling The Comprehensive Menu Structure
Jayne's Luxury Rental website had a lot of secondary pages so we needed to come up with a menu structure that's easy to use and that would showcase everything they do to an end-user within a single click. For that reason, we implemented a mega menu. The main benefit of a mega menu is that they're comprehensive and ensure all pages of the site are included within the navigation menu. Users will always have easy access to every page on the site, helping them to quickly find exactly what they want.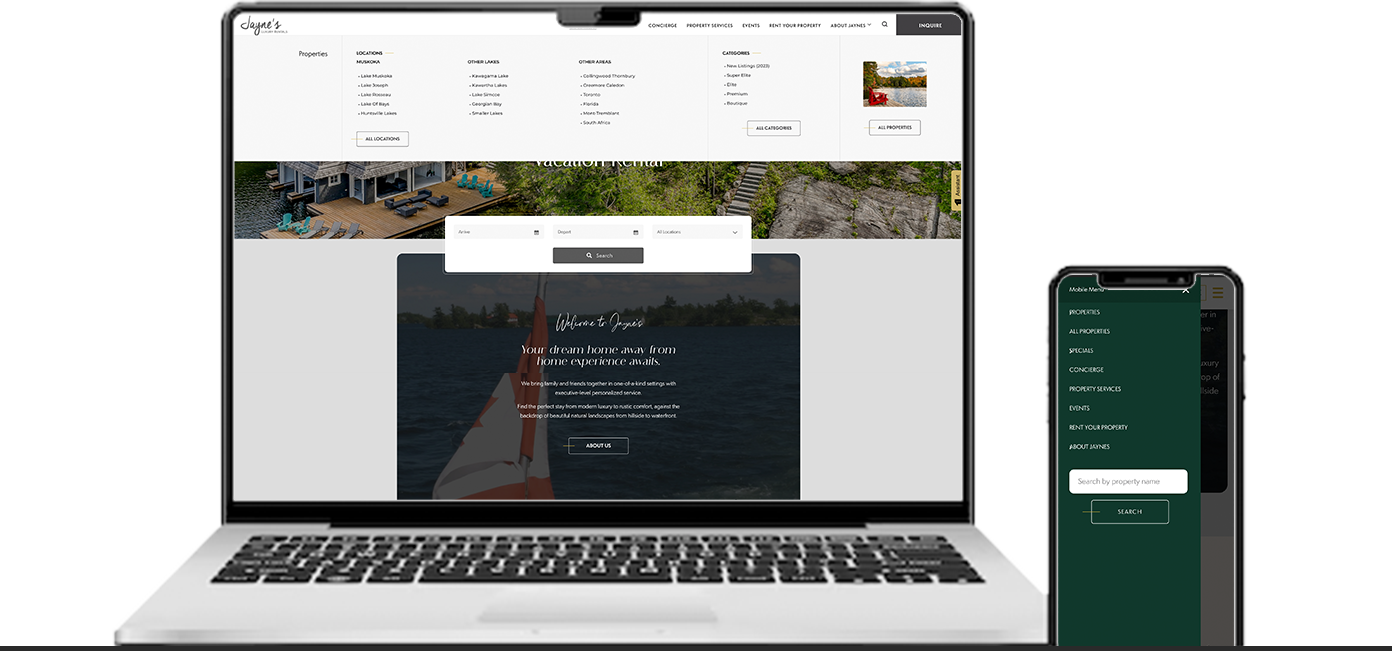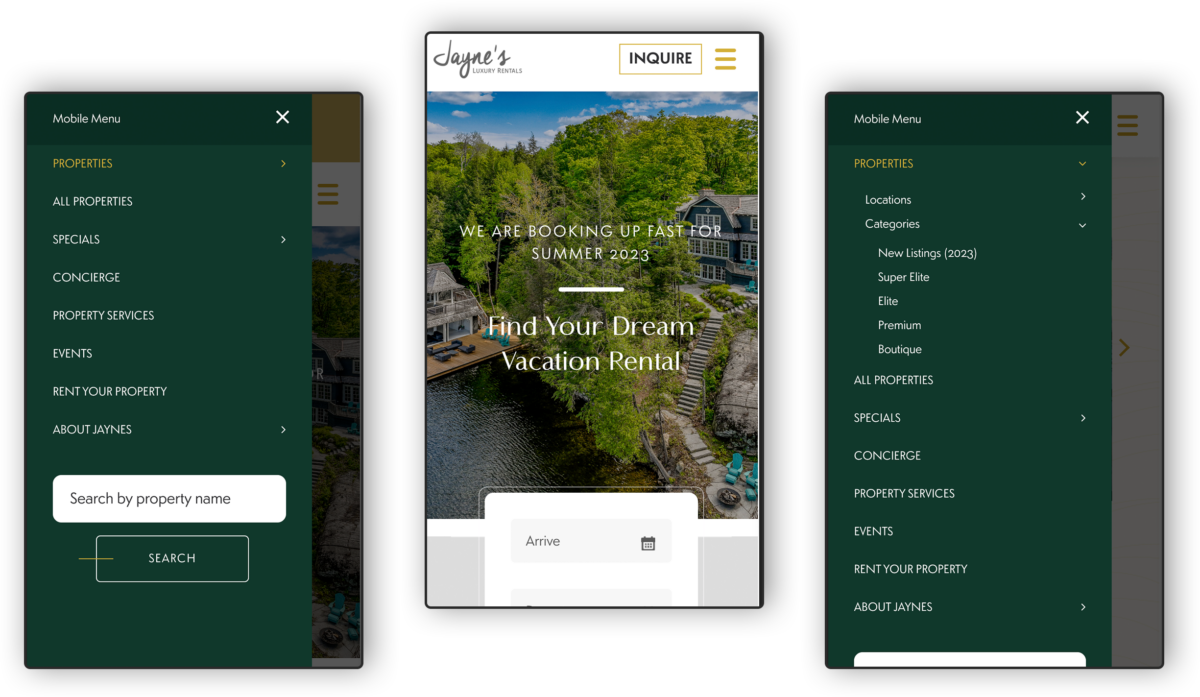 SOME HIGHLIGHTS OF THE JAYNE'S WEBSITE PROJECT
Custom web design with a modern flair.
Custom property filter with map integration, allows visitors to choose exactly where they want to stay.
Booking functionality that is simple to navigate.
Fully branded & customized the booking engine and property pages so users do not have to leave Jayne's website to go to a third-party webpage for booking.