CASE STUDY
Foley's Chocolates
A website redesign project to boost usability and navigation for a luxury chocolate manufacturing company. New website gives Foley' Chocolates much needed facelift.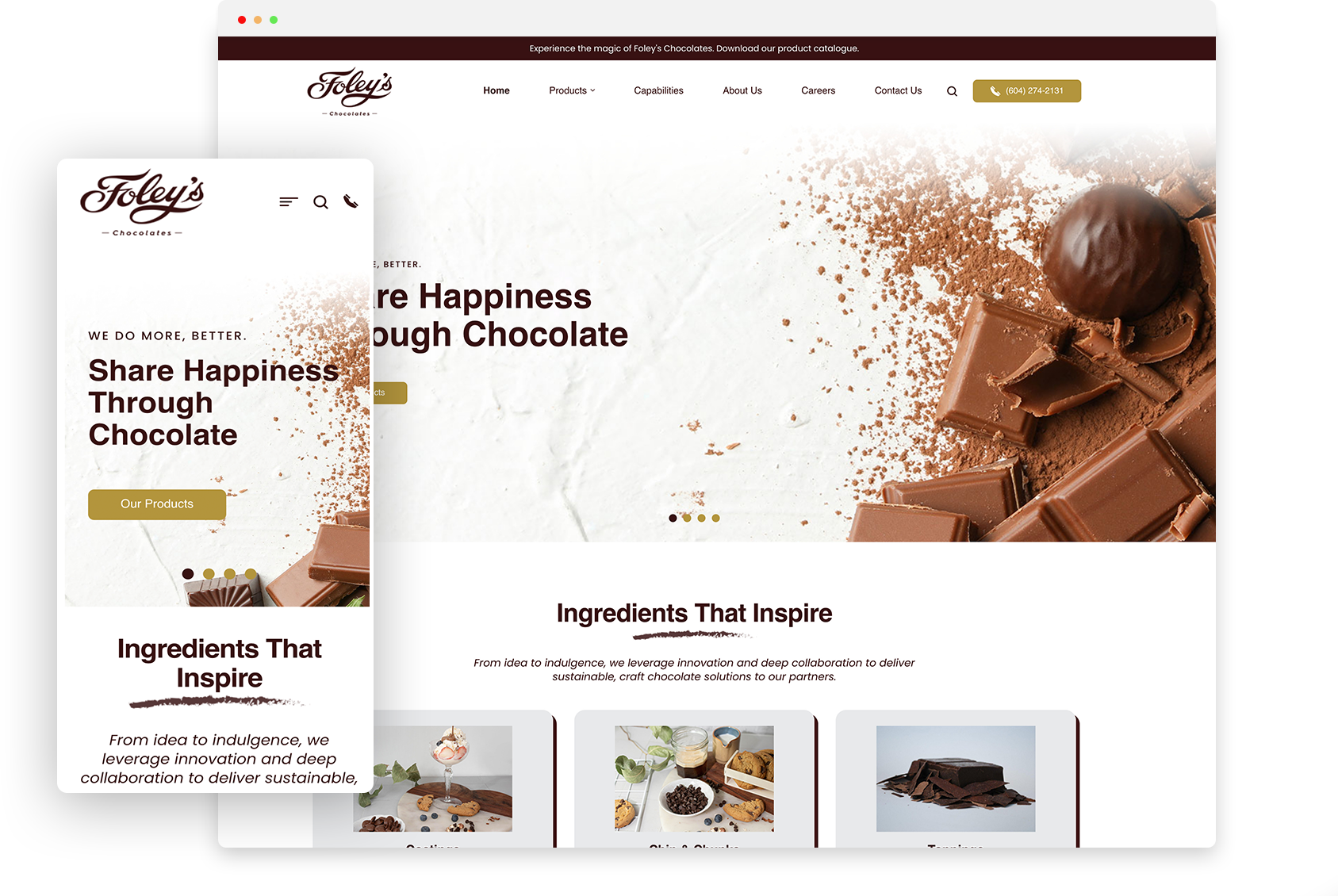 The original website was outdated, difficult to navigate and did not reflect the high-end brand Foley's Chocolates is.

Redesign the existing website to be not only visually appealing but make it easier to navigate so user can have much smoother and enjoyable catalogue experience.

We refreshed their brand by improving the UX and were able to provide a better user experience for lead generation. Inbound inquiries have grown from virtually nothing to around 20 new customer enquiries every month.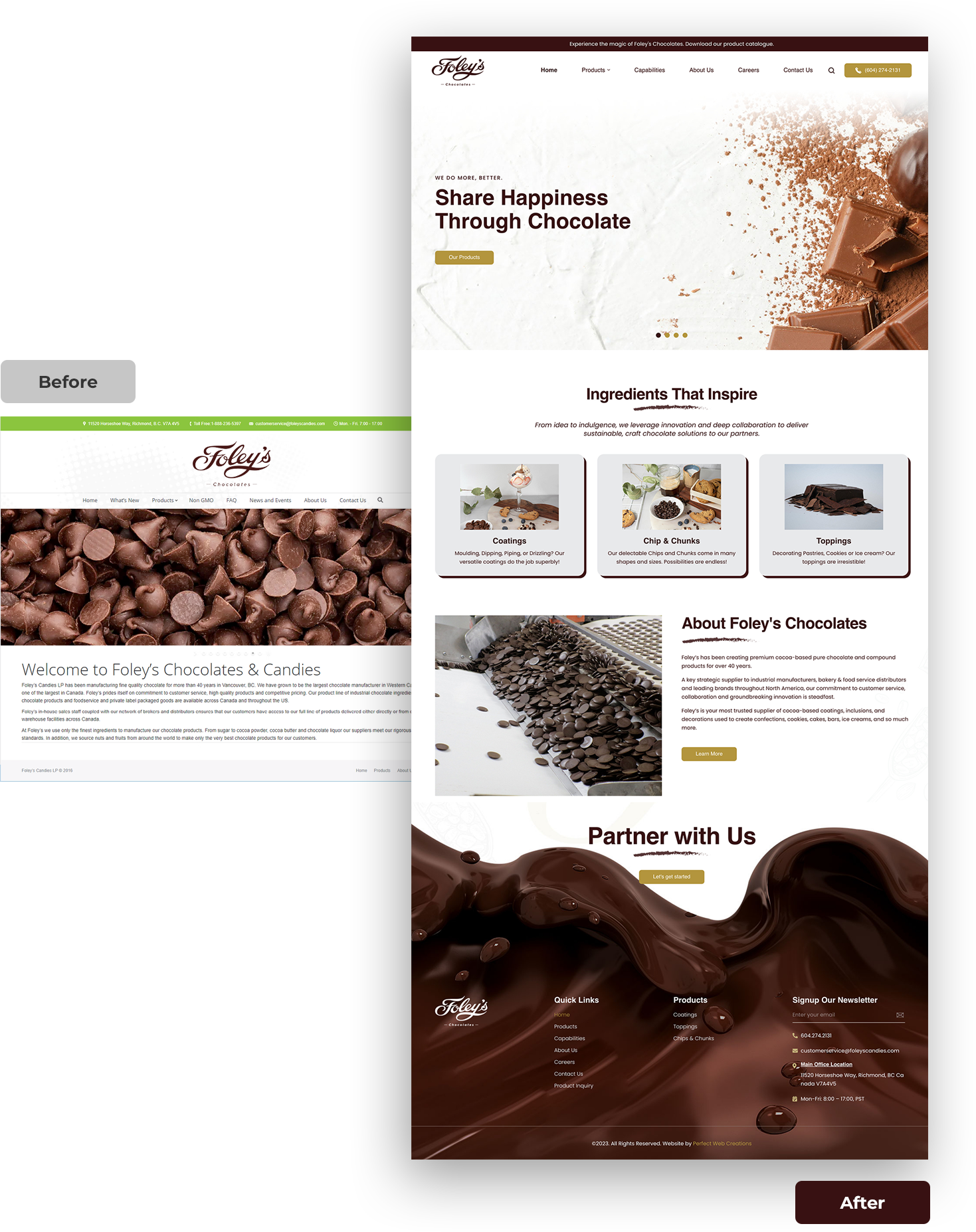 ABOUT THE COMPANY
Foley's Chocolates
Foley's Chocolates is one of Canada's largest manufacturers of fine-quality chocolate and confectionery products for more than 40 years. Foley's prides itself on its commitment to customer service, high-quality products, and competitive pricing.
Having long established itself as a premier Canadian chocolate manufacturing brand, Foley's website fell short in portraying the modern international brand it had become. Our main goal was to supply the user with an overall experience on the site that encompassed a product tour, their capabilities, and a robust platform for lead generation nationally and internationally.
Services Provided:
Brand Refresh
Brand Guidelines
Website Strategy
UI/UX Strategy
WordPress Website Development
WooCommerce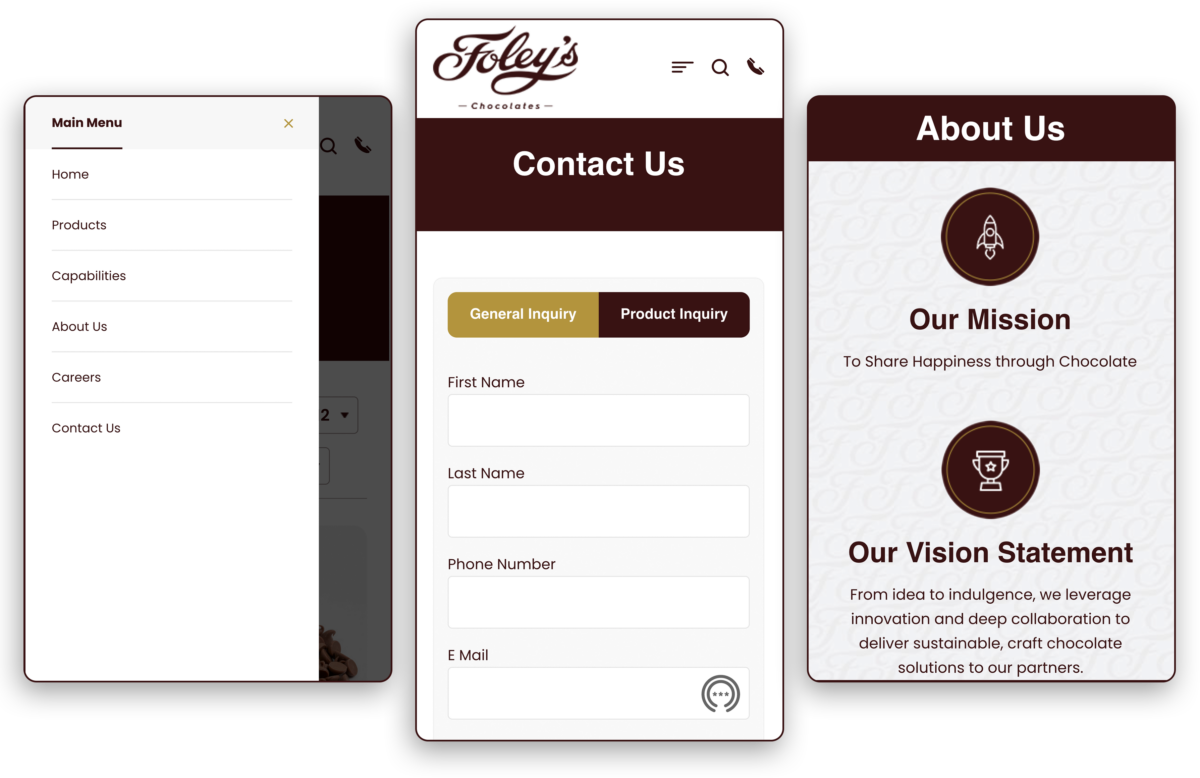 It's The Process that Counts
The primary objective of this project was to design and develop a visually appealing, responsive, and content-rich website. At Perfect Web Creations, every project starts with a process. Our process ensures that every website is goal-oriented, efficient, and ready to grow. Our rigorous process starts with strategy, design mock-ups, and prototypes before we dive into development. Before diving into the designs, we made sure that Foley's brand voice and tone is established.
The site is designed with big fonts, generous spacing, and bold layouts that allow the visitor freedom to explore, without ever feeling lost.
By using customized content blocks, we gave the team at Foley's Chocolates control over their content; a website that is now amazingly easy to manage. The website visitor required an easy way to locate material on the go, thus the design needed to be mobile-friendly. As a result, we built the site from the ground up to be optimized for the mobile experience.
THE TRANSFORMATION
The Outcome
We created and delivered a colorful and immersive website for Foley's Chocolates that bring their characters to life. The custom WordPress website is mobile responsive in its design for any screen size and has a fast load time for best practice standards. It has advanced security inbuilt and is search engine optimized.
We are proud of our work and are delighted that our client loves the results!
Not only did we exceed their expectations; we provided them with a site that will successfully reach more potential customers than before.