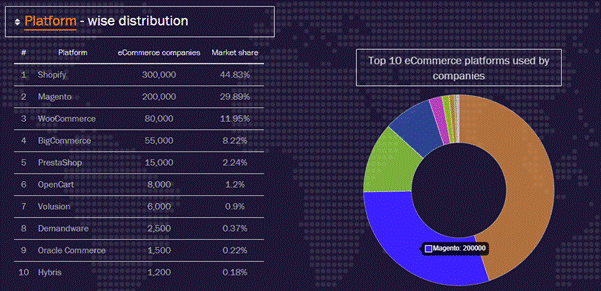 In the past few years since the COVID-19 pandemic, e-commerce development has gained momentum as businesses all over the world have realized the benefits of having an online presence. This is because of a significant difference between sales of a brick-and-mortar setup and sales of an online portal. If you have ever thought of developing an e-commerce website with all the world-class features and a mobile-friendly theme that engages customers 24/7, then you hit the right button. With the increasing number of open-source web application platforms out there, and choices about which framework to opt for is hard nut to crack.
Let's take a look at how Magento helps you to manage your e-commerce store:
Open-Source
Being an open-source eCommerce store, Magento attracts developers from around the globe. Any developer who has heard the name tries his hands on the platform. The community edition of Magento is entirely free, allowing easy installation and utilization for everyone. It can save you a lot and let you earn more.
Possessing knowledge about Magento can help you enhance your online store's capability to the maximum, even if you are not a Magento expert.
Highly Scalable
If you would list on the must haves of your ecommerce business then high scalability would be on your top list as it helps a lot in letting your website grow and it is especially beneficial for retailing websites and the best thing is that with Magento you would get this feature. With this facility, your ecommerce business would be stable and won't stop growing as well. You would get all the necessary support from Magento whatsoever is needed for getting that push up in e-commerce business.
Product browsing is easier
Online entrepreneurs that are allowing their customers to have a hassle-free shopping experience whatever device they use are undoubtedly excelling in this industry. All the info about an item they need is already given to the client for their perusal, making it easier to buy. Magento is the platform that never compromises on that. It also supports customers overseas and even allows purchasing using multiple currencies and various languages.
Feature-rich platform
Magento is not just resigned to a set of basic features. It offers a wide array of features suitable for various businesses.
The advanced search capability of Magento makes it possible to find state-of-the-art functionalities.
Supports multiple websites to promote products and services across domains.
Magento creates search engine-friendly URL'sthat are good for marketing.
Magento's flexible rules of pricing attract a high number of customers.
Customizable themes: Customize your store in any way you want and obtain any template for the look you desire.
Mobile-friendly Configuration: Magento is responsive and completely mobile-friendly.
Magento support multilingual configuration
Magento supports major payment gateways
Reporting and Analytics
Google Analytics, Google Base, and Google Checkout are the various reports and analysis tools. These help in tracking the potential customers browsing through your app/site. These help in providing greater opportunities to look for the stats and report that any business would need to grow.
These are helpful and vital tools to know about the areas that need improvement in sales pitching.
No Security Concern
Magento provides a secure and strong site to work with. When it comes to security there is no concern. Online payments are completely free from the stress of confidential data leakage.
With its secured IP and SSL security, customers are free from any security tension. Thus more the security more the customers returning rate.
Smooth Checkout Process
If the checkout process of your website won't be fast then you would have to lose many of your customers but with Magento, this won't be a problem anymore as it makes sure that the check out process could be faster as well as smoother than even and this could be possible because of the frequent updates as well as up-gradation of this service provider. Alongside you would also get the facilities of Google play, Klarna pay and many more with Magento.
SEO Friendly
One of the greatest strengths that Magento has is its robust commitment to SEO, thus allowing your online store to be optimized 100%. Getting on the top ranks of search engines is a goal every business aims for, and Magento makes it easier for you to reach. Magento facilitates numerous tools for your business to reach the top search engine ranks.
Conclusion
Magento has become an ideal choice for small, medium, and large businesses. One can build and run their online store in a pretty easier way with Magento. Moreover, eCommerce websites build on Magento are highly secure and scalable. It also allows you to integrate third-party extensions and plug-ins to fulfill your store requirements.
Some interesting facts about Magento
Here are some interesting facts that show the popularity of Magento:
Using Magento technology, merchants grow 3 times faster.
Magento powers 1.2% of the internet that accounts for 12% of all e-commerce sites, out of which 1.9% are CMS.
These numbers are likely to grow as Magento adoption nearly doubled between 2019 and 2020.
Over 250,000 merchants around the world using Magento as their eCommerce platform. Only 11,000 of those run on Magento 2.
As of June 2021, Magento has a 1.1% market share of all websites that use a known content management systems.
Magento is downloaded nearly 5,000 times every day.
Around the 1.4 billion online shoppers place their order smart devices.
Magento handles $155 billion (USD) worth of transactions every year.
There are over 5000 extensions available for Magento and many of them are free.