CASE STUDY
SleepWorks Medical
A complete branding overhaul for a longtime client for his Surrey's based sleep apnea treatment clinics to achieve exponential growth in online bookings.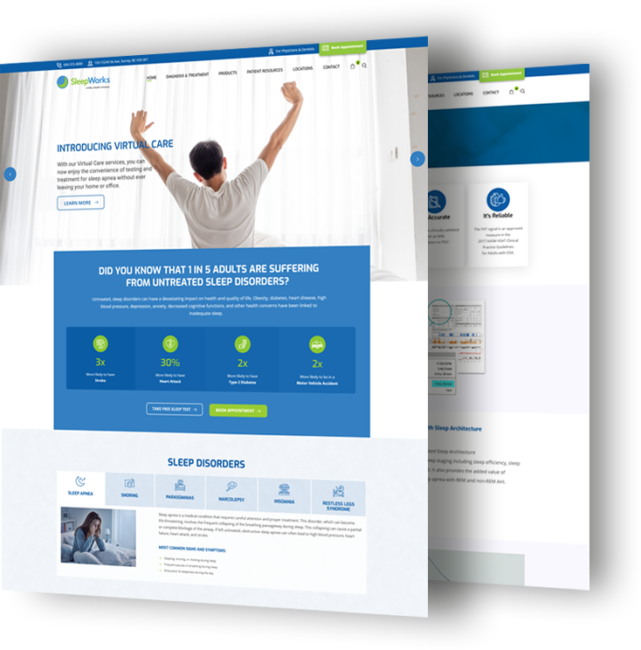 The previous website was built in 2013 so it was quite outdated and didn't follow the latest web trends. The client also wanted to establish credibility and build brand recognition and drive more traffic to the website.

Perfect Web Creations created a new modern design that not only looks good but is also functional and engaging while still aligning with the style of the outdated website. Additionally, we looked to build brand awareness and create credibility.

The client was very pleased with the website. It reflected their previous design while being bold, professional, and very attractively done throughout.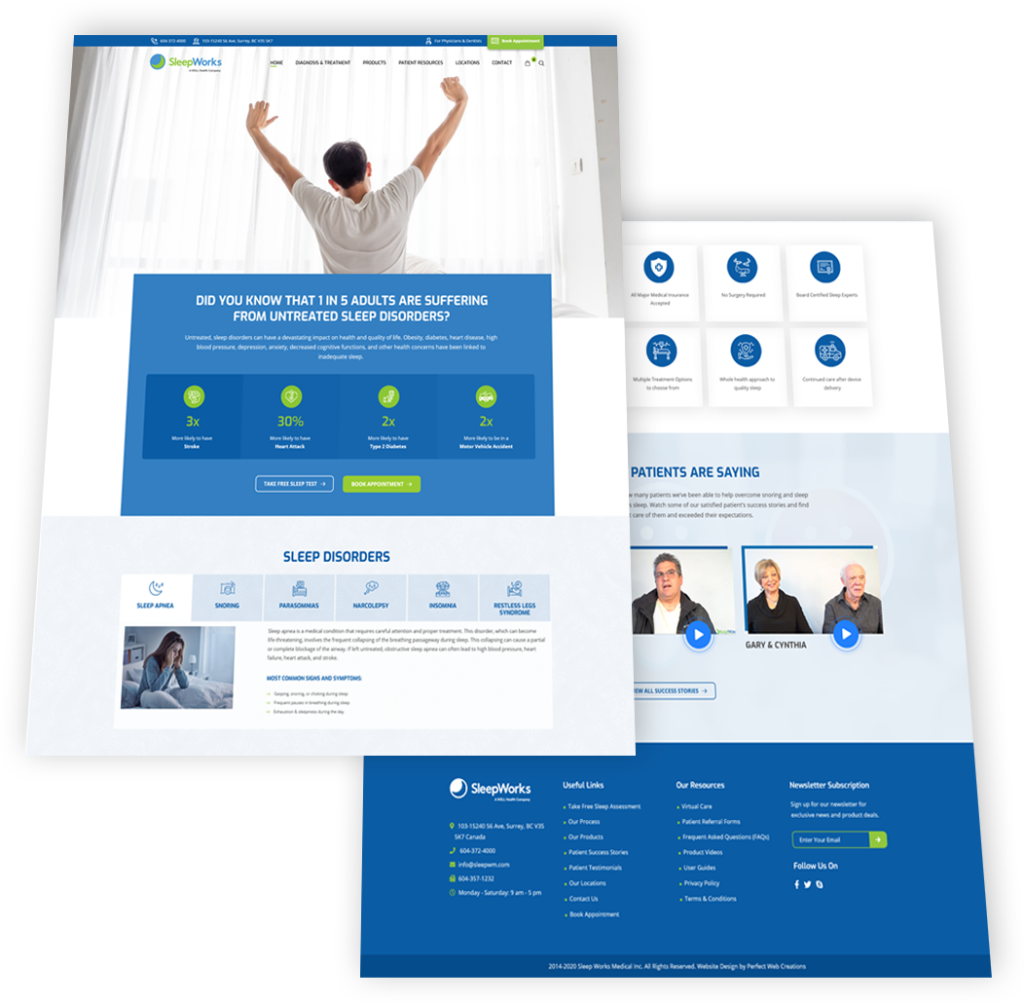 THE BACKGROUND
SleepWorks Medical Clinics
Our client, SleepWorks Medical is a longtime client who is dedicated to providing Canadians with early detection and treatment of fatal sleep disorders such as Obstructive Sleep Apnea and has 20 locations throughout Lower Mainland.
We did their initial website back in 2013 and we still remember their old website that was built in Flash (ancient website technology!). Flash is an animation site that was hugely popular in the early 20s because of its smooth animations, creating an elegant experience. However, as the Internet grew, this technology became obsolete and even went as far as Google blocking this technology from search results.
Fast forward to 2020, SleepWorks Medical's website was 7 years old and needed a brand makeover and also needed a platform where they can sell products online.
Services Provided:
Corporate Branding
UX (User Experience) Design
Responsive Website Design
Art Direction & Consulting
Custom WordPress Development
Paid Ads
BRAND IDENTITY
CUSTOM ICONS
Branding is critical for every business. As part of the new facelift, we created customized modern-looking icons from scratch to showcase the different sleep disorders they treat.

Colors & Typography
Brand Identity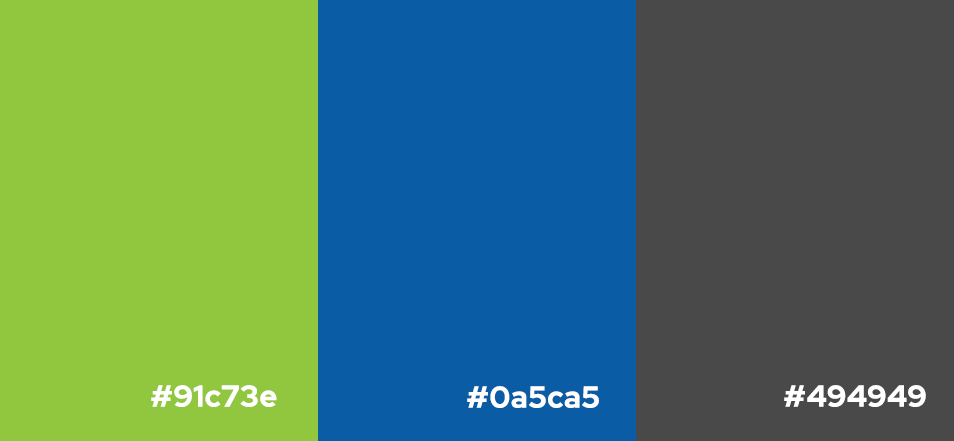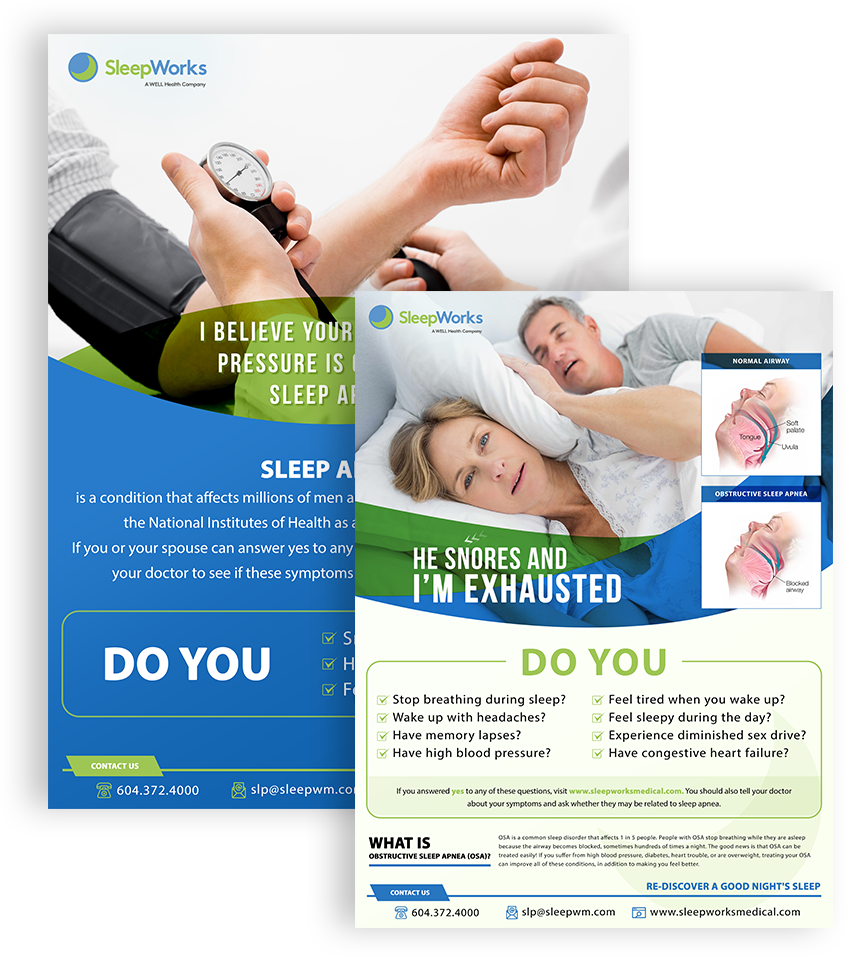 CONSISTENT BRANDING
Print Material
We designed the clinic posters with the intention of closely matching the content as well as the brand of the new SleepWorks Medical website. Photos to be included inside the report were provided to us by SleepWorks's team and were previously used on the old posters designed by another company. Our team then proceeded to perform retouches and edits to ensure that images adhere to the overall color scheme. These along with custom-designed graphics are then strategically placed throughout the posters for improved readability and eliminating the need for long text paragraphs.
The end result was engaging posters optimized for both print and digital distribution. The posters were used to provide information to patients about sleep apnea at 20 SleepWorks Medical locations.
GROWING BRAND WITH PAID DIGITAL ADS
Pay Per Click Ads
Through the paid search Google Ads campaigns, Perfect Web Creations ensured that SleepWorks Medical would appear as the top ad result of every relevant search query for sleep apnea keywords. Our team was able to develop a successful strategy, targeting niche services that were less competitive but still offered an opportunity for positive returns.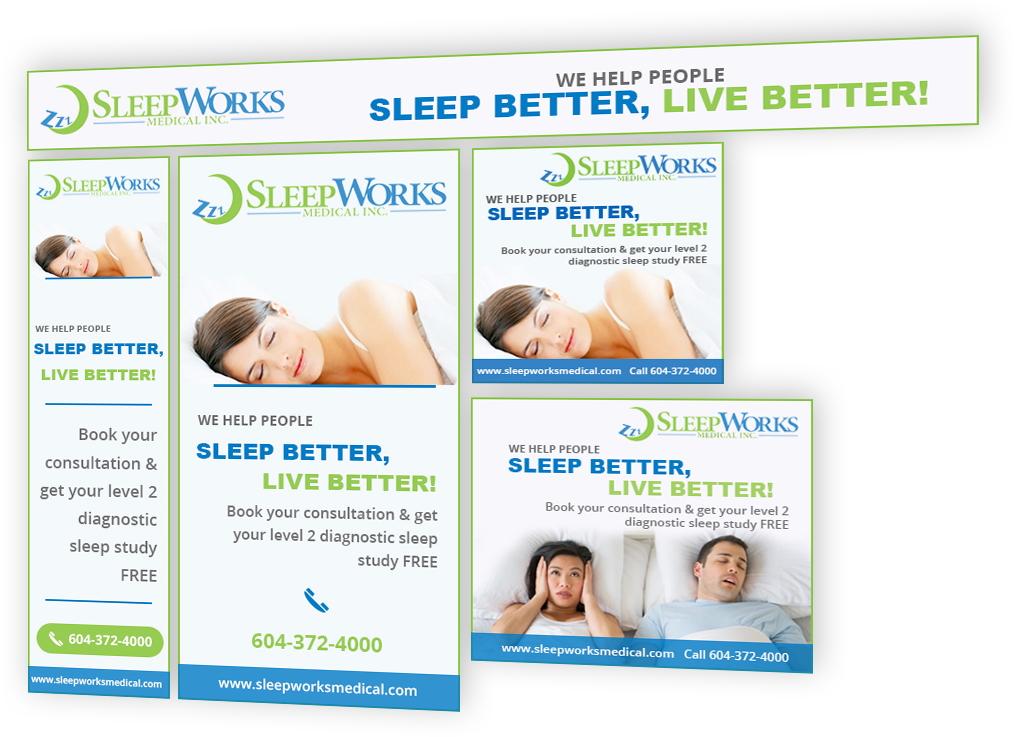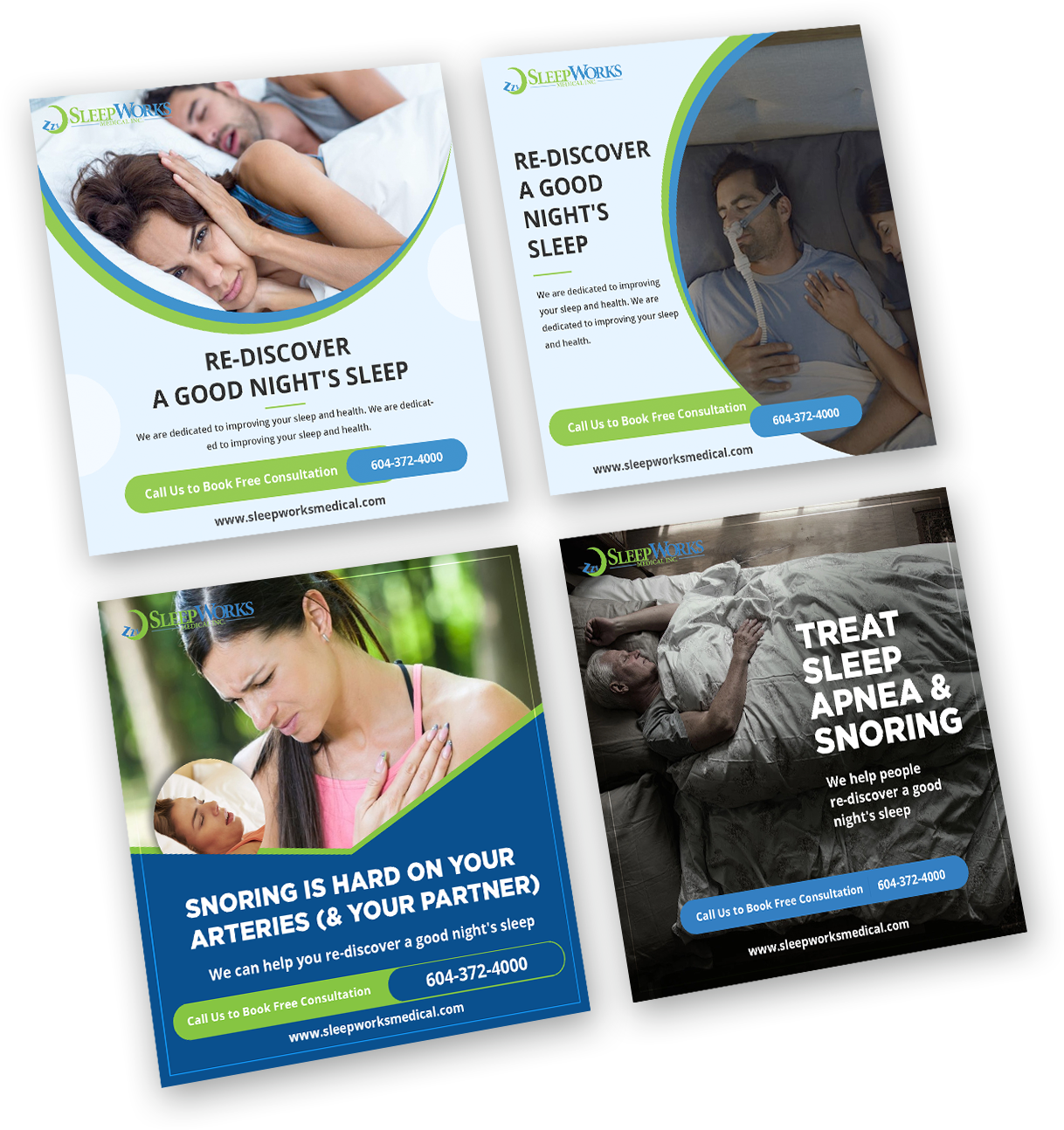 GETTING AHEAD OF COMPETITION WITH PAID SOCIAL ADS
Social Media Ads
Our Facebook Ads strategy was designed to complement our other initiatives, by running ads that would remarket to users who had already visited a specific page on SleepWorkss Medical's website.
We ran a series of paid social media advertisements, targeted granularly to CPAP owners or patients who are suffering from sleep disorders. Additionally, we looked to build brand awareness and create credibility. Alongside these campaigns, we engaged patients with organic posts through Facebook to bring any qualified leads back to the site.
MOBILE OPTIMIZED
Fresh Design
A way to establish trust with your target audience is to make sure your company materials consistently reflect top-quality and professionalism. Our team created a fresh website that matches all their marketing efforts, from the sales pitch, to print material. From the first contact to the final sale.