CASE STUDY
Mainland Cannabis Online Dispensary
The client is an online marijuana dispensary specializing in both recreational and medical cannabis throughout Canada.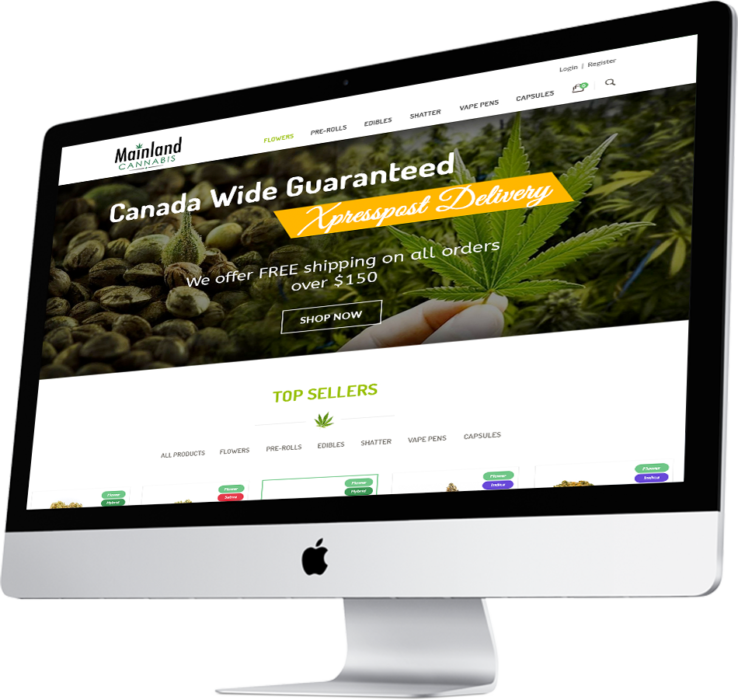 Mainland Cannabis had one initial business goal in mind and that was to increase traffic and sales through their online store.

We kicked right into gear by launching a fresh new e-commerce website & SEO strategy plan to start growing the brand & increasing visibility.

Within a year of launching the SEO campaign, the traffic on the website increased 5x and website revenue shot up 6x.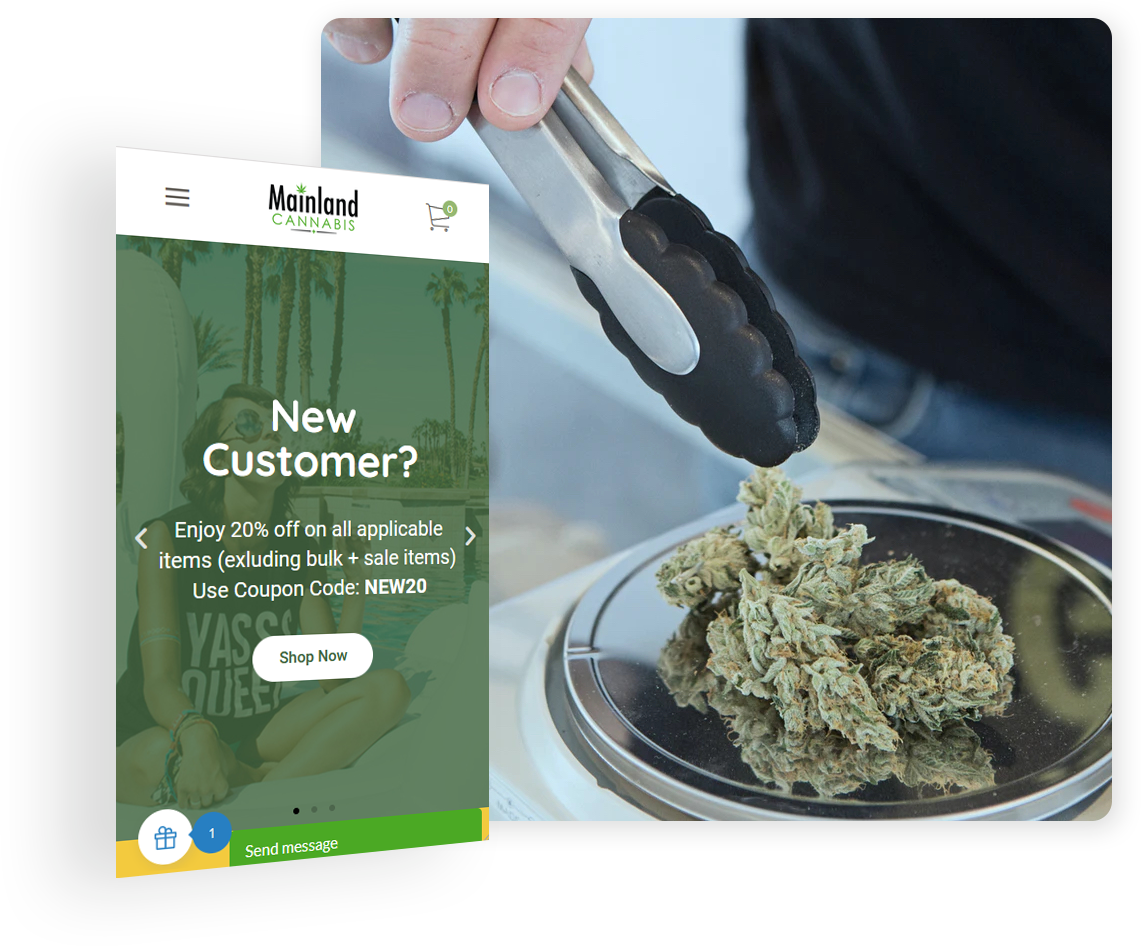 ABOUT OUR CLIENT
Who is Mainland Cannabis?
Our client Mainland Cannabis is Vancouver, BC-based Mail Order Marijuana (MoM) company specializing in the best CBD oil and cannabidiol products the Canada market has to offer. From top-shelf marijuana flowers and concentrates to oils, edibles, and various CBD skincare products, this company is proud to provide clients with the highest quality legal CBD products available on the market.
Mainland Cannabis turned to Perfect Web Creations to improve their online brand presence, and drive new customers to their online store. We developed an ROI focused, results-driven SEO strategy for their website to gain visibility, organic traffic, and drive new customer acquisition.
Services Provided:
Corporate Branding
UX (User Experience) Design
Responsive Website Design
WordPress & Woocommerce e-commerce website
Search Engine Optimization
Referral Program
Quickbook Integration
REINVENT THE BRAND WITH WEBSITE THAT SELLS
E-commerce Website
We came in to contact with Mainland Cannabis in 2018. At that time, they had an outdated website that had a lot of bugs and no to little online presence. After learning everything we could about Mainland Cannabis and their industry, we proposed creating a new website and marketing initiatives that were tailormade for helping them grow, expand into new territories, and attract more online sales through Search Engine Optimization (SEO). We re-built the website in September 2018. The new site was modern, clean, and mobile responsive. It had compelling calls to action that helped guide users along the path to conversion.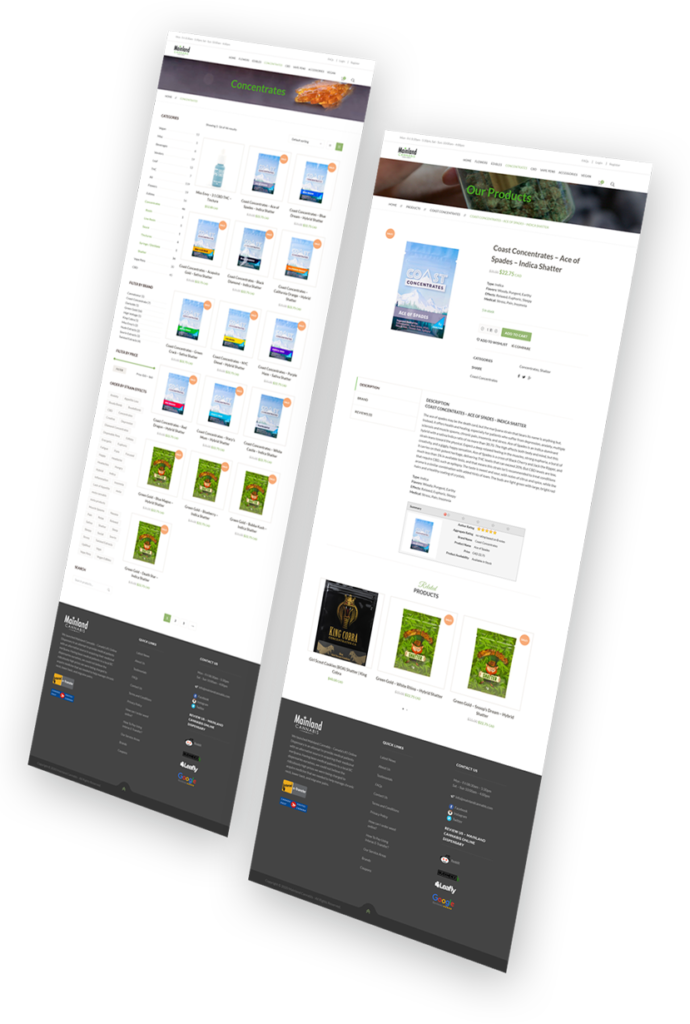 STREAMLINED PROCESSES
QuickBooks Integration
Mainland Cannabis used Quickbooks Online for their accounting and managing inventory. To ensure smooth operation, they needed to integrate Quickbooks Online with their online store. We integrated their Quickbooks with WooCommerce store and automated sync of customer sales, inventory, sales tax and shipping/tracking data from your selling platform to QuickBooks.
RISE IN VISITOR TRAFFIC AND REVENUE
Search Engine Optimization
The initial project scope was limited to designing and deploying a new online store, but very soon Mainland Cannabis realized that due to regulations, marijuana websites can't promote themselves through PPC advertising or ads on social media. This meant that the client depended on his customers to find his website through Organic search. This is where we came into the picture again. In July 2019, we commenced many months of aggressive SEO campaigning in order to catch up with major competitors that have been doing SEO for a longer period of time.
Our goal was to optimize technical SEO factors of the site and build high-quality content around CBD and hemp that attracts high-quality backlinks. After fixing several errors found in Google Search Console and making a ton of UI and on-page SEO enhancements, they started to see some upward movement in the SERPs. Sales and organic site traffic have steadily progressed, with an immediate and noticeable bump after completion of the July checklist. After 1 year, they have reached 15,000+ visitors every single month, and six figures in sales from organic search, every month. Organic users increased by 941% YoY (May 2019 vs May 2020). This has translated to a 745% improvement in goal completions.
NUMBERS THAT MATTER
Quick Statistics
Between July 2019 and the end of August 2020, the client experienced dramatic boosts in their keyword rankings. Beyond their spike in top 3 positioned rankings, they saw a 554% increase in their rankings for top 4-10 positioned keywords and a 690% boost in the number of top 11-20 keywords.
Overall, they went from 192 keywords to 1800+ keywords in one year. As their visibility in search improved, the client saw a 5x increase in order volume and a 6x increase in sales revenue.
Client Testimonial
We hired Perfect Web Creations to help us develop our website, migrate data from our existing site, and setup various plugins that have been crucial for our business. Having very little experience in website development the Perfect Web Creation's team guided us in every step. They not only exceeded our expectations in developing the website but were also able to meet a very tight timeline. If you are looking for a team of dedicated developers, I highly recommend Perfect Web Creations. Excellent customer service, outstanding results, affordable, and extremely professional in all aspects of managing the project. Can't say enough about these guys. They saved our business!!! Thank you Perfect Web Creations for everything.Hark Uppal