CASE STUDY
Great Vancouver Real Estate
Great Vancouver Real Estate, a local Vancouver pre-sale search engine dominated Google search listings for every pre-sale listing in the area within 6 months of doing SEO. 5000+ ranked keywords & increased the organic traffic by 286%.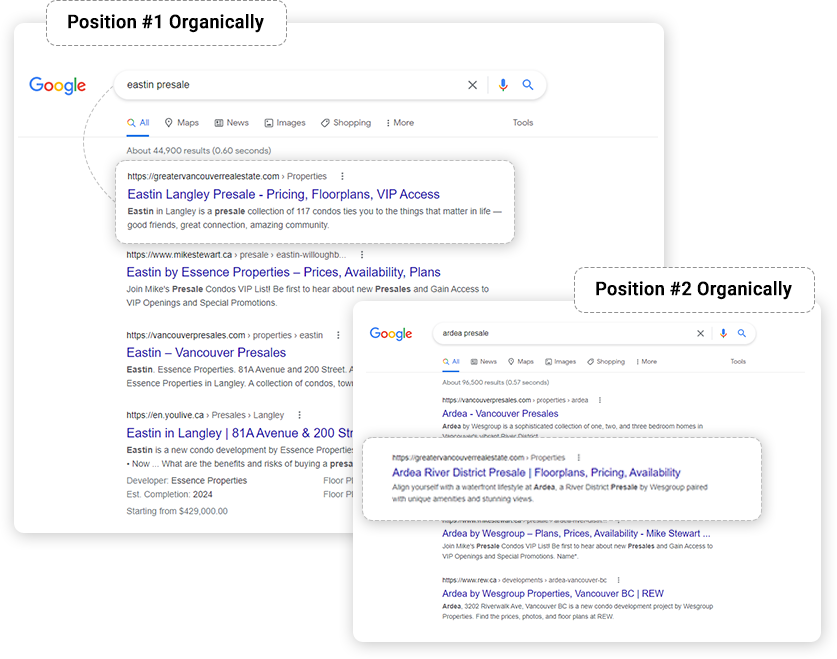 The client recently launched a pre-sale property search engine and were struggling to get traffic or leads through the website. At that time, client turned to PWC for a comprehensive SEO strategy that would yield long-term results in regards to lead generation and brand recognition.

We designed and implemented an SEO campaign that included on-page and off-page optimization around their targeted keyword terms. Our team has performed several rounds of content scrubbing, exponentially increasing the keyword base for the website.

Within 6 months, our SEO campaign showed a significant increase in not only organic traffic, but also lead conversions. The client went from ranking 80 keywords to ranking 5168 keywords in 6 months.
ABOUT THE COMPANY
About Great Vancouver Real Estate
Great Vancouver Real Estate management team wanted to build a search engine for buyers looking for presale properties in the Vancouver area. Over time they expanded the website to focus on all type of properties and also expanded their demographics.  The client wanted to invest in SEO as a long term strategy for lead generation through search marketing, as the cost-per-click for keywords in this niche is costly.
We researched deep into their data and compared it to their strongest competitors. We found that their content and link profile strength was lacking when compared to their competitors which needed to be corrected before they could compete for top positions in their local searches. Over this period of time, our team has performed countless rounds of keyword research, content scrubbing, and link-building campaigns, exponentially increasing the keyword base for the entire website and building an organic powerhouse that has become a valuable asset, beyond lead generation.
Services Provided:
Content Marketing
Search Engine Optimization
Link Building
Local SEO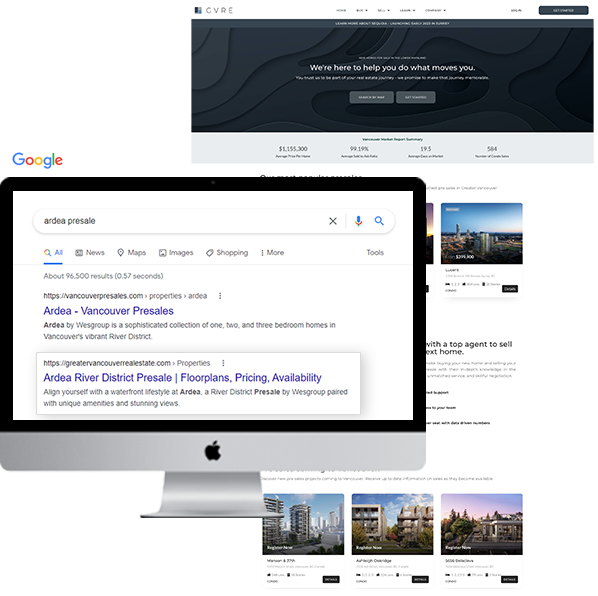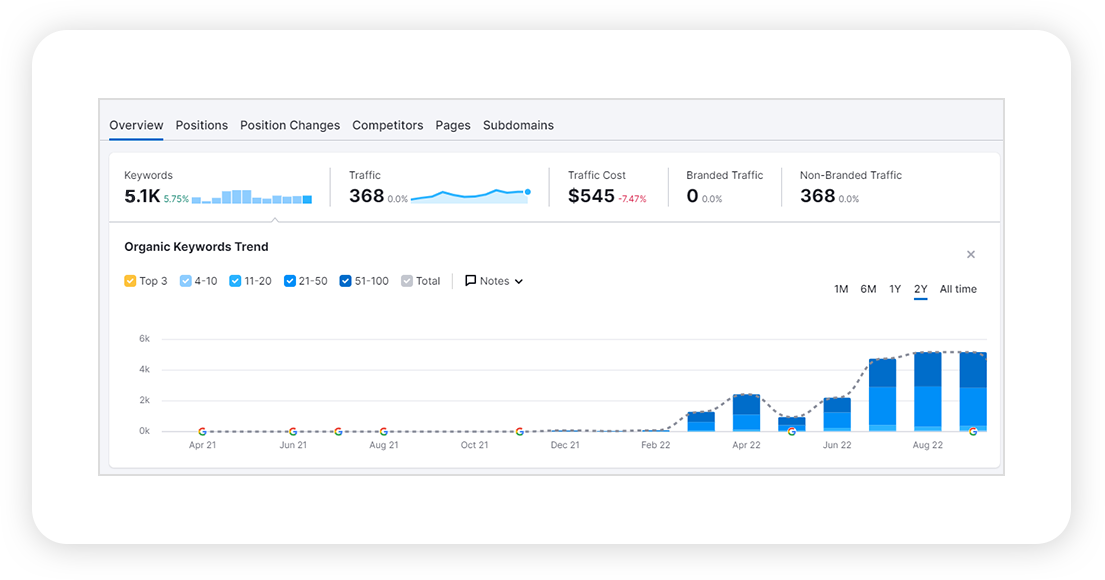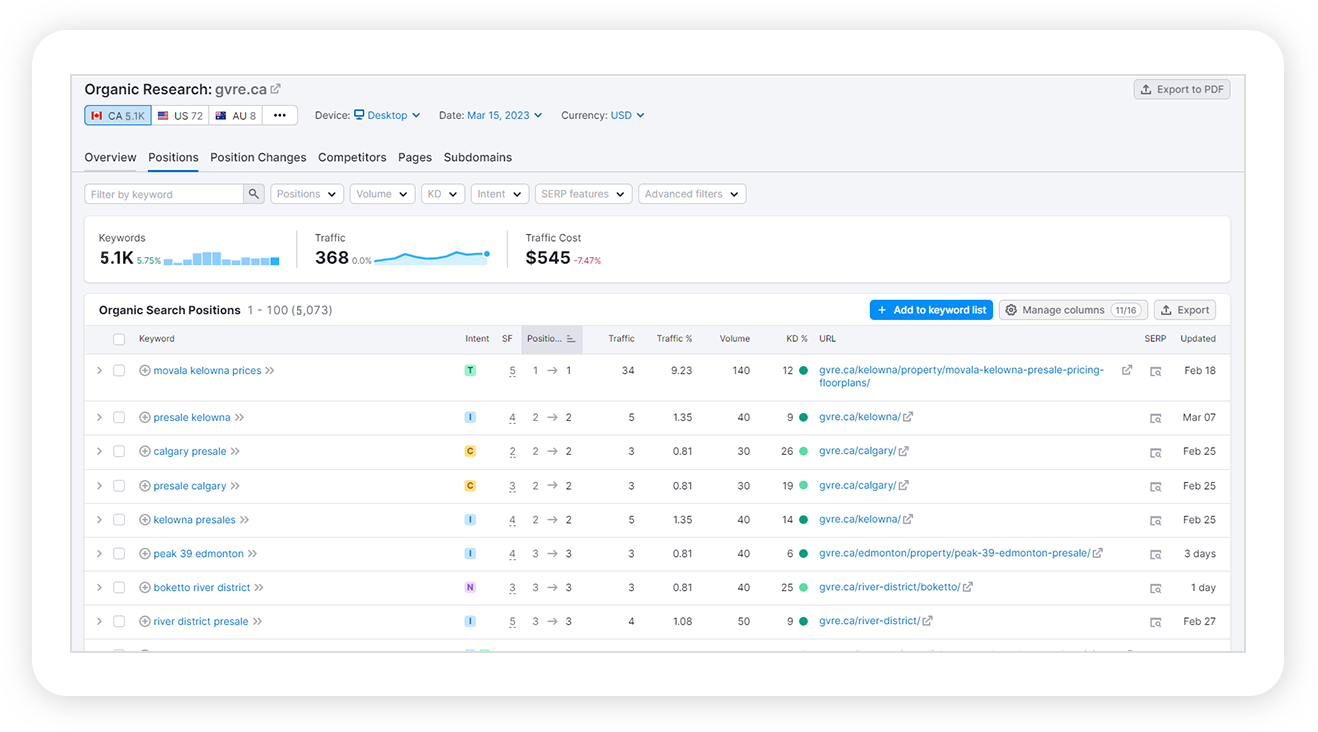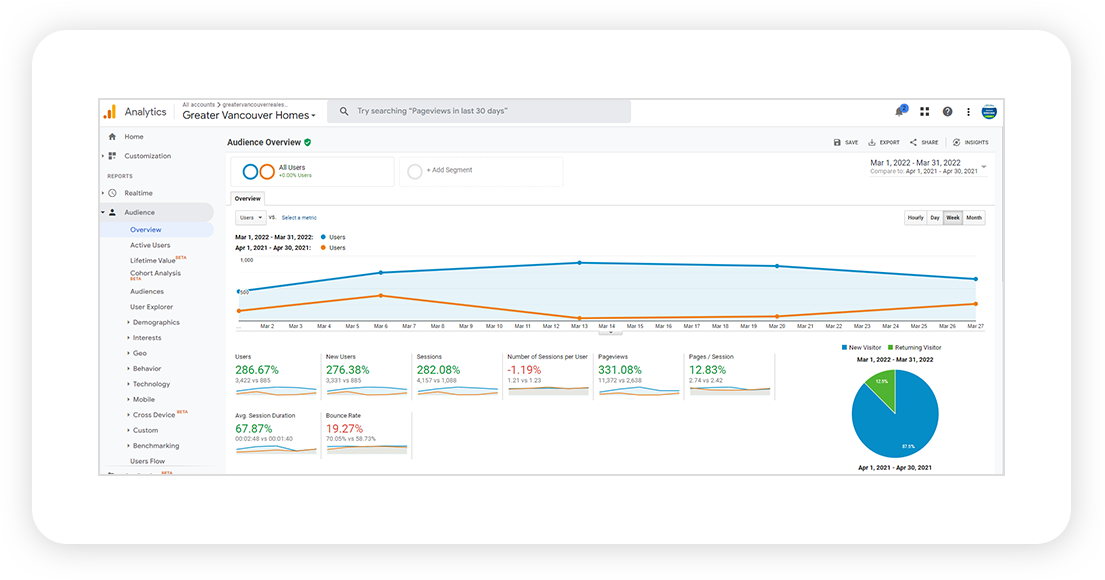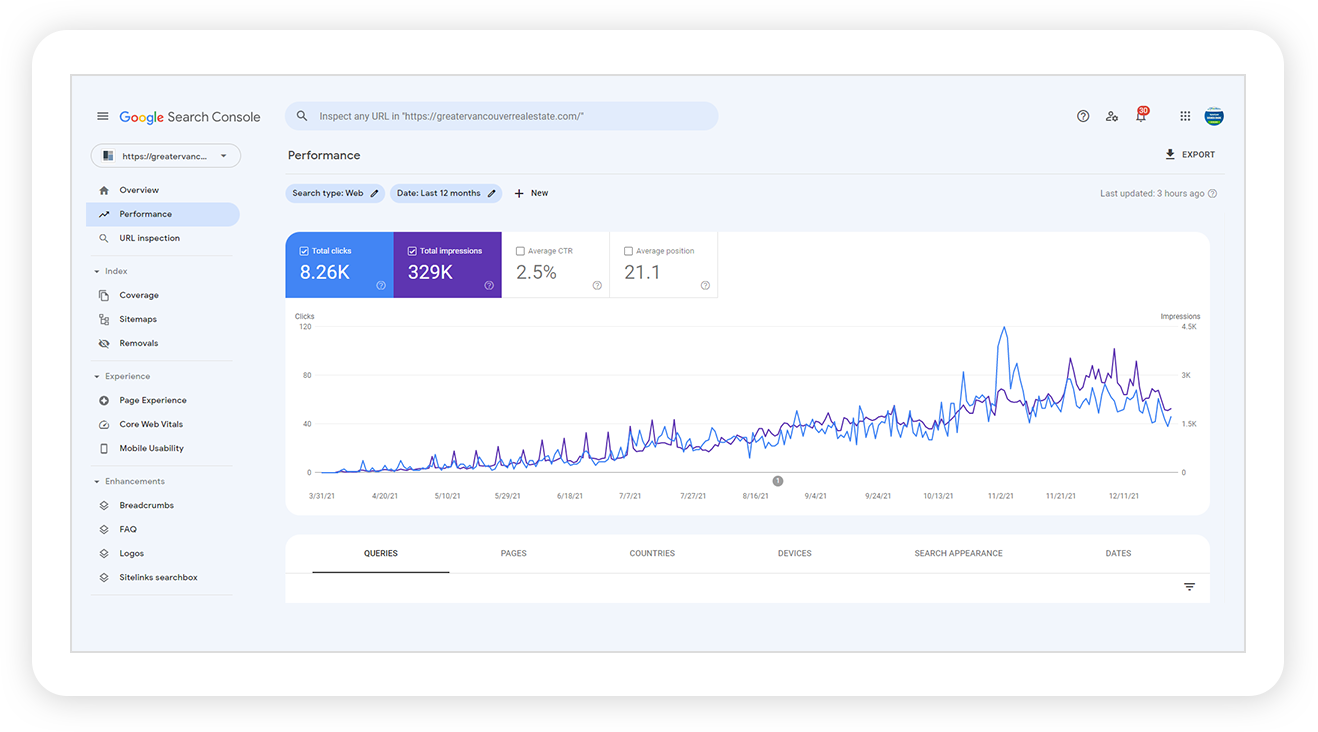 MAXIMIZING RETURNS THROUGH AN INTEGRATED STRATEGY
Our SEO Approach
Our team began with a full website audit & developed an SEO action plan. We did thorough keyword and competitor research, including analysis of keyword trends, and provided recommendations for immediate impact. A lot of real estate agents are hesitant at the cost of setting up an SEO campaign because they don't immediately see the ROI.  However, for the cost and the many hours put in, a good action plan & strategy will direct the SEO campaign for months and potentially years to come.
We use sophisticated SEO tools and years of hands-on experience to determine what this client needs to come out on top. We invested time in strong and reputable link building and set up Google Analytics and tools as needed to make the website as SEO-friendly, manageable, and scalable as possible.
Increasing a client's ranking keywords is important to secure them more traffic. That's because keywords are what people use when they search for something on Google. We handpicked the keywords based on the client's requirements and optimized the landing pages.
Within 6 months of running the SEO campaign, they saw an increase in the number of keywords ranked in SERP. They went from 80 keywords to 5000+ keywords in just a matter of 6 months. They averaged about 100 visitors per month at the beginning of our SEO campaign. As you can see above, traffic spiked to over 3,500 in the middle of the campaign thanks to our link-building efforts.
Within 6 months, our SEO campaign showed a significant increase in not only organic traffic but also lead conversions. We acquired #1 spot & first page rankings in the search engines for desired keywords in a highly competitive space.
With Vancouver's success, the business has expanded into Kelowna, Calgary & Toronto. In our ongoing collaboration, we conduct SEO keyword research — with a focus on geo-targeted, intent-focused terms — and produce compelling and value-adding SEO content. As a result, our client has been able to gain more search visibility while positioning itself as a leader in this highly competitive space.
Sincere efforts and consistency in implementing the latest SEO strategies while watching a close eye on market competition are the key factors in winning through SEO. As you can visualize from the reports, a turnaround gain in website organic traffic is our major achievement. The real estate firm succeeded in getting more prospective clients via SEO.
For our clients, we offer an SEO plan with a variety of deliverables, detailed keyword research, website audits, and technical knowledge required for SEO campaigns with an understanding of the real estate sector demand. We strive to help businesses rank in the local pack with organic traffic.
In a nutshell, with our proven SEO strategy, the real estate firm could uncover a big win by generating improved ROI.
Keyword & their Rankings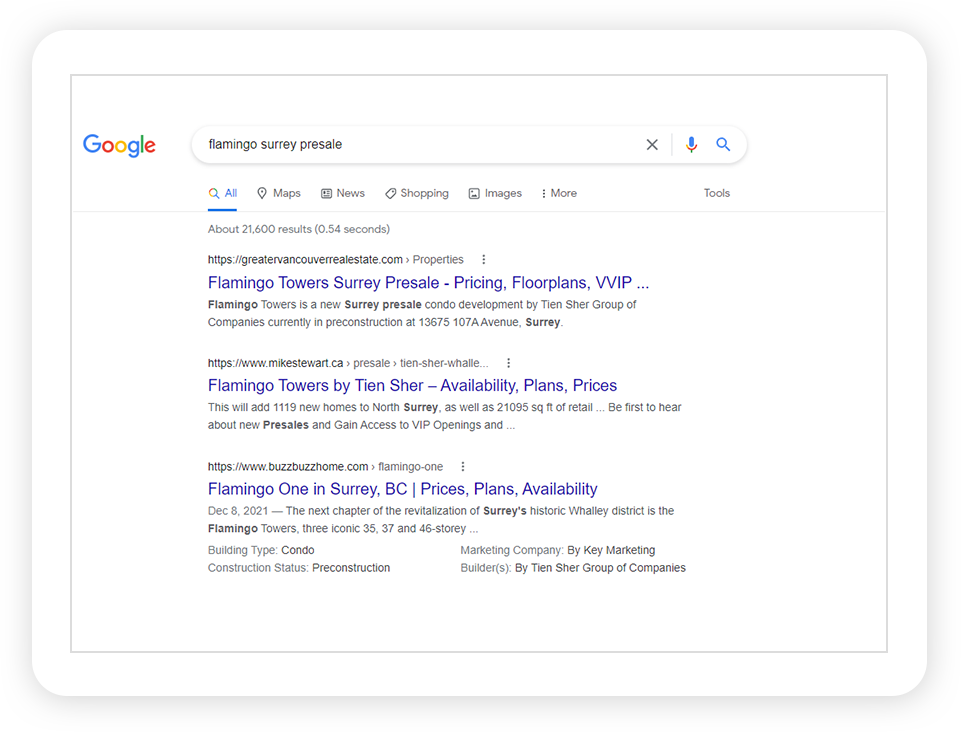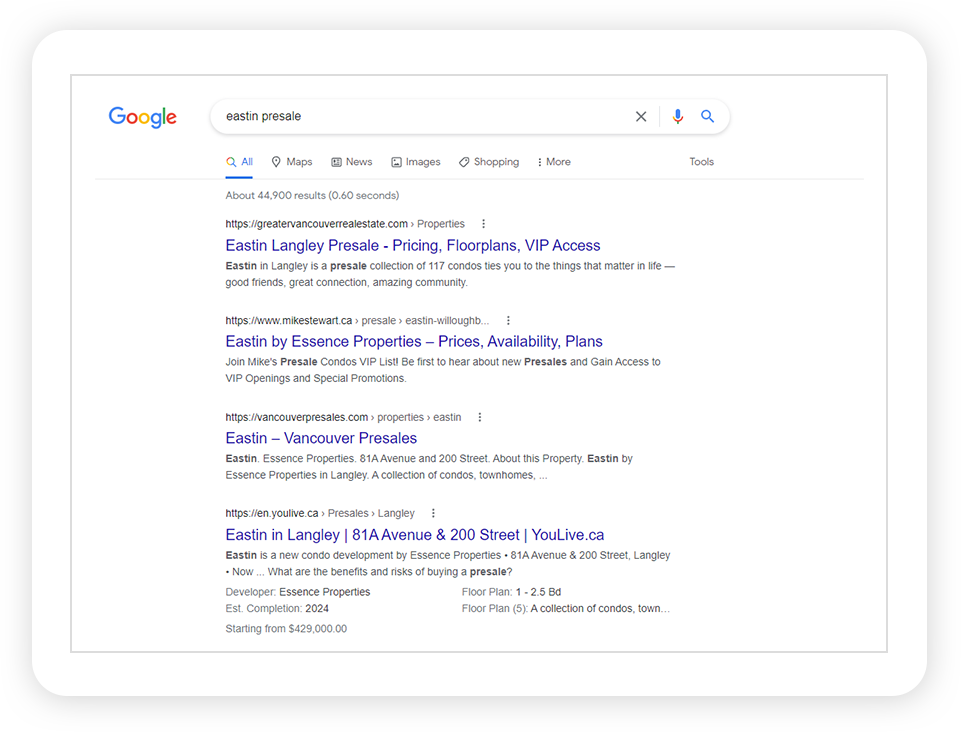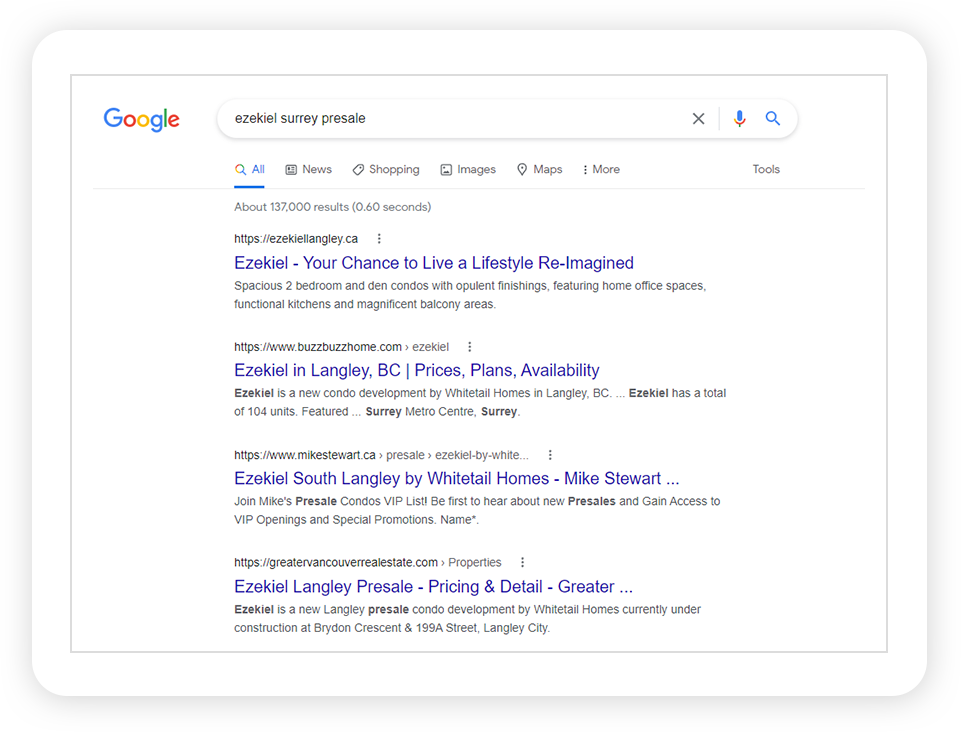 NUMBERS THAT MATTER
Quick Statistics
The changes as a result of our SEO campaign had a dramatic impact on the performance of the website. We hit record highs for traffic and turned the new website into a valuable asset rather than a sinking ship.
286% increase in organic search traffic in year 1
276% increase in new users in year 1
This traffic had a quick and dramatic impact on inbound sales activity and put renewed trust into digital marketing and how it can help a business.