CASE STUDY
Econowise Sunrooms & Patio Covers
1600 Qualified Leads through the paid marketing campaign resulting in a 335%+ increase in new business! (even during Covid-19)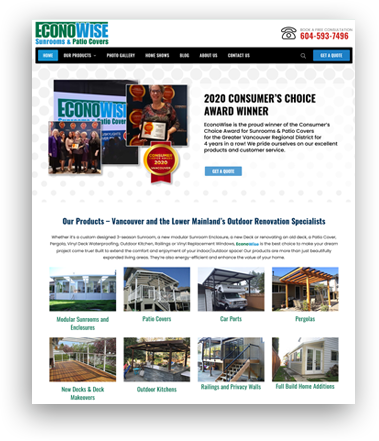 Econowise had previous experience working with the web developer but wasn't seeing the lead generation and traffic they desired. Beyond improving the design of their website, we aimed to assist Econowise in improving their visibility in search.

We worked with the client to re-design the website and recommended additional on-site content that would avoid duplication and potential cannibalization of their targeted keywords.

Website re-design and on-site SEO strategy produce record organic traffic rankings month-after-month.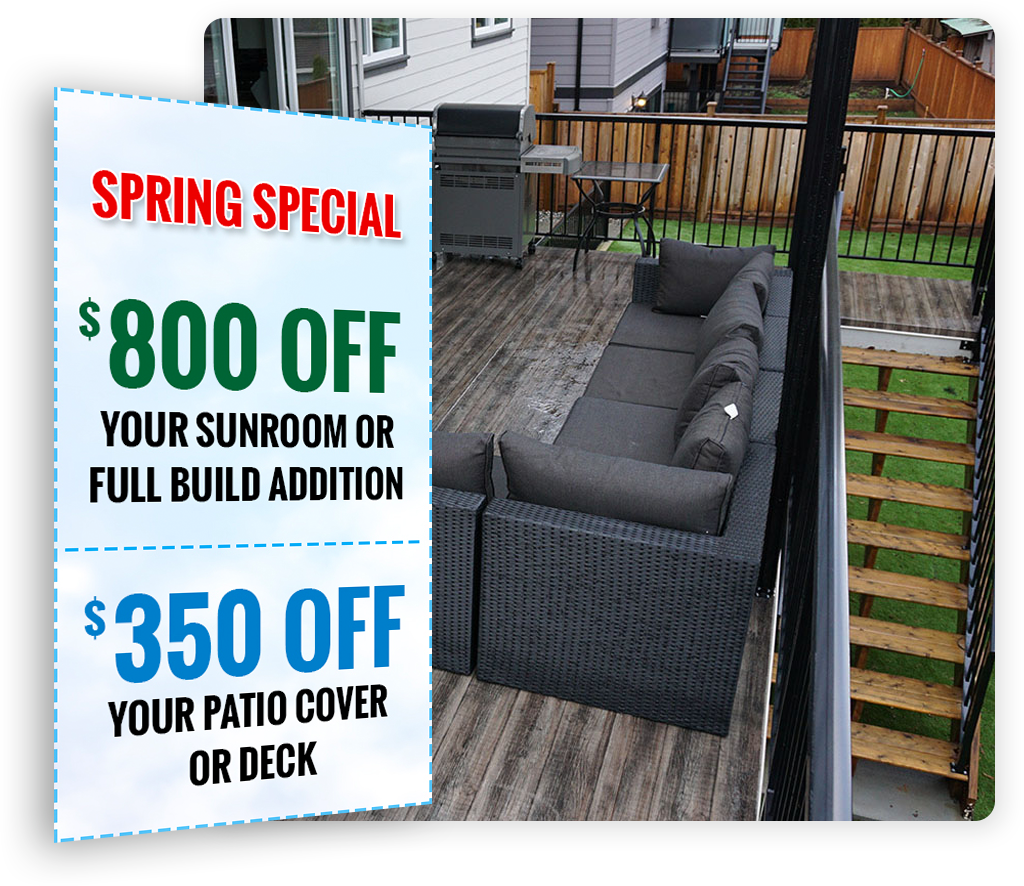 ABOUT OUR CLIENT
Who is Econowise Sunrooms & Patio Covers?
Econowise Sunrooms & Patio Covers is a local outdoor renovation specialist in Vancouver and the Lower Mainland since 2009. They are recognized as a top Sunroom and Patio Cover Contractor and through the years has become an award-winning company chosen by the clients for great products and services. Ranging from awnings and patio covers to enclosures, renovating existing outdoor spaces or adding entire new extensions, the EconoWise is the best choice.
Services Provided:
UX (User Experience) Design
Responsive Website Design
WordPress website
SEO
Paid Marketing
REINVENT THE BRAND WITH WEBSITE THAT SELLS
Website Re-Design & SEO Growth
Perfect Web Creations began helping The Econowise Sunrooms & Patio Covers with the website redesign and marketing in 2019. At the time, they had an outdated one-page website that was difficult-to-use and created a disconnect in their marketing. Outdoor Renovation industry is extremely competitive and since the transaction value is really high, it is important to design a website that conveys trust and experience so that the visitors are more likely to make the initial contact with the brand.
Based on current marketing trends and user data, our team made improvements to enhance the site's overall user experience (UX), conversion rate, and search engine rankings.
Our team approached the project with the following key objectives in mind:
Ensure it is easy for users to find what they are looking for on the site and navigate there with as few clicks as possible.
Make it simple for users to submit a quote request on individual service pages.
Help improve the search visibility of individual service pages with valuable content and enhanced technical architecture.
Our team crafted a new website with a call to action, showcasing tenure, awards, credibility, imagery, and an easy to use responsive website.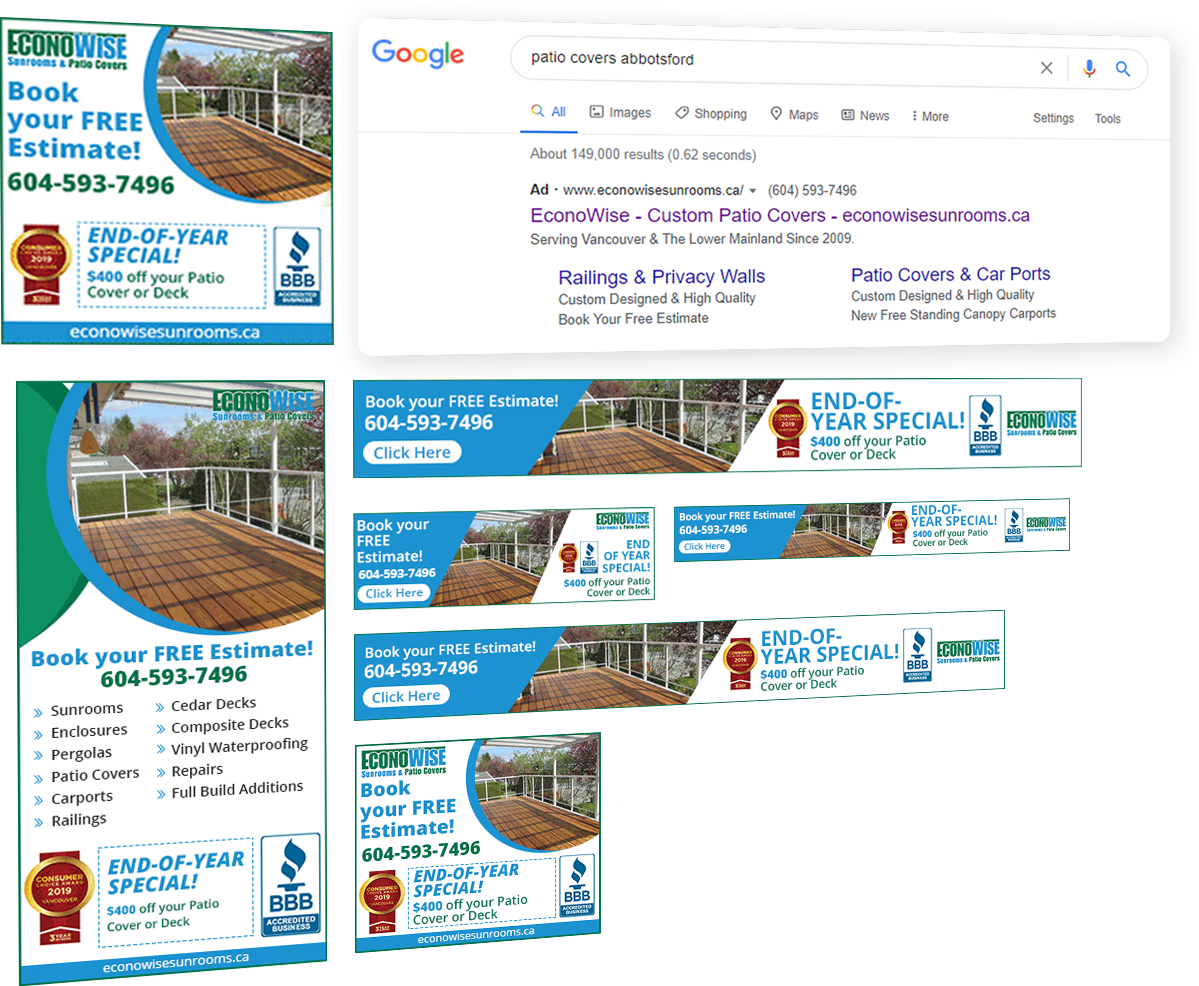 GROWING BRAND WITH PAID DIGITAL ADS
Google Ads
Google Ads have been a strong performer for Econowise Sunrooms & Patio Covers, despite the fact that the outdoor renovation industry is well-known for its high average Cost Per Click (CPC) on ads. Through the paid search campaigns, Perfect Web Creations ensured that Econowise's services would appear as the top ad result of every relevant search query for the outdoor renovation keywords. Our team was able to develop a successful strategy, targeting niche products that were less competitive but still offered an opportunity for positive returns. In less than one year, Google Ads generated 980 leads for Econowise Sunrooms & Patio Covers. Over 50% of these leads came from contact form completions, with the remainder of the leads coming from phone calls from the website or ad extensions.
GETTING AHEAD OF COMPETITION WITH PAID SOCIAL ADS
Facebook & Instagram Ads
Our Facebook Ads strategy was designed to complement our other initiatives, by running ads that would remarket to users who had already visited a specific page on Econowise Sunrooms & Patio Cover website.
In addition to remarketing, our team also ran ad campaigns for specific outdoor renovation services. In total, the Facebook & Instagram campaign has generated 650 qualified leads in one year.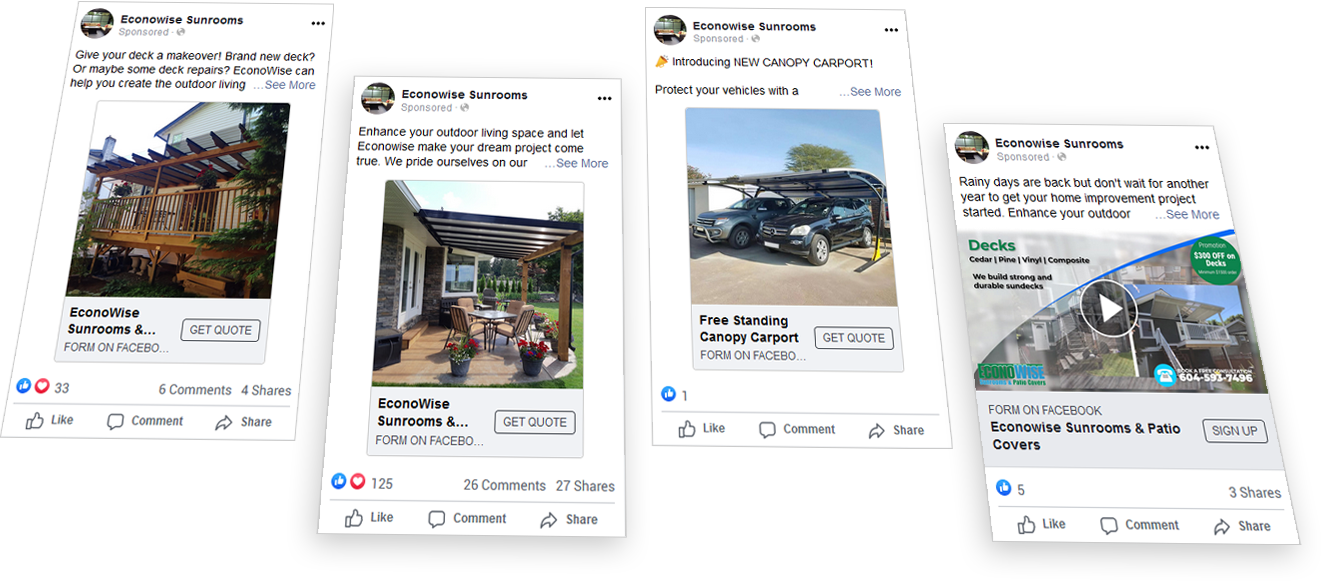 ORGANIC VISIBILITY
Search Engine Optimization
The improvements to the website and UX resulted in a 420% increase in total monthly sessions across the site year-over-year (May 2019 vs. May 2020). The number of leads per month was a major success for Econowise and yielded an impressive 335% increase in leads over the same period.
STREAMLINED PROCESSES
CRM Integration
Utilizing a customer relationship management (CRM) system to track and organize business contacts is key for organizations across industries, but figuring out how best to implement and organize your CRM system can be tricky. Perfect Web Creations streamlined the entire process by automatically funneling all the leads coming from the website and marketing campaigns into Freshsales CRM. It eliminated all the manual data input which can be time-consuming and can lead to errors.
NUMBERS THAT MATTER
Quick Statistics
The new Econowise website is a much more professional user experience, and a stronger testament to their reputation. It's easy for a potential customer to discover information about all their product and services. And the new photo gallery reflects their passion for their work.
The SEO and Paid marketing campaign is a huge success which resulted in almost 1600 leads and 6 figure revenue in less than a year. We are excited and extremely happy with our results for Econowise. And we have only just started. With new product offerings in the pipe, new designs, and new technologies, Econowise is poised to grow to be the largest outdoor sunroom installation provider in Canada.
We have been working with Deep Garcha to develop our website and our digital marketing strategy for a year now, and we are thrilled to work with him and so impressed with the results! He is very knowledgeable, honest, accessible, and a great strategic thinker! It's a pleasure to work with him and we trust his expertise to develop our business at Econowise Sunrooms and Patio Covers.Brenie Matute (2020)