Google is notoriously effective at figuring out which businesses best match what people search for locally. The company regularly refines the local search algorithms that determine where businesses show up in local search results. The aim of it is to generate more traffic to the local stores by converting the foot traffic.
But, you may ask what exactly is Google's local search?
Some marketers call it local SEO or local search marketing, but we like to think of local search as a more integrated approach to marketing for local businesses. Google local search is all about putting your business on the google map in local searches when customers are searching for a business like yours.
For a more formal definition, local search marketing is a form of search engine optimization that helps local businesses show up in relevant local searches.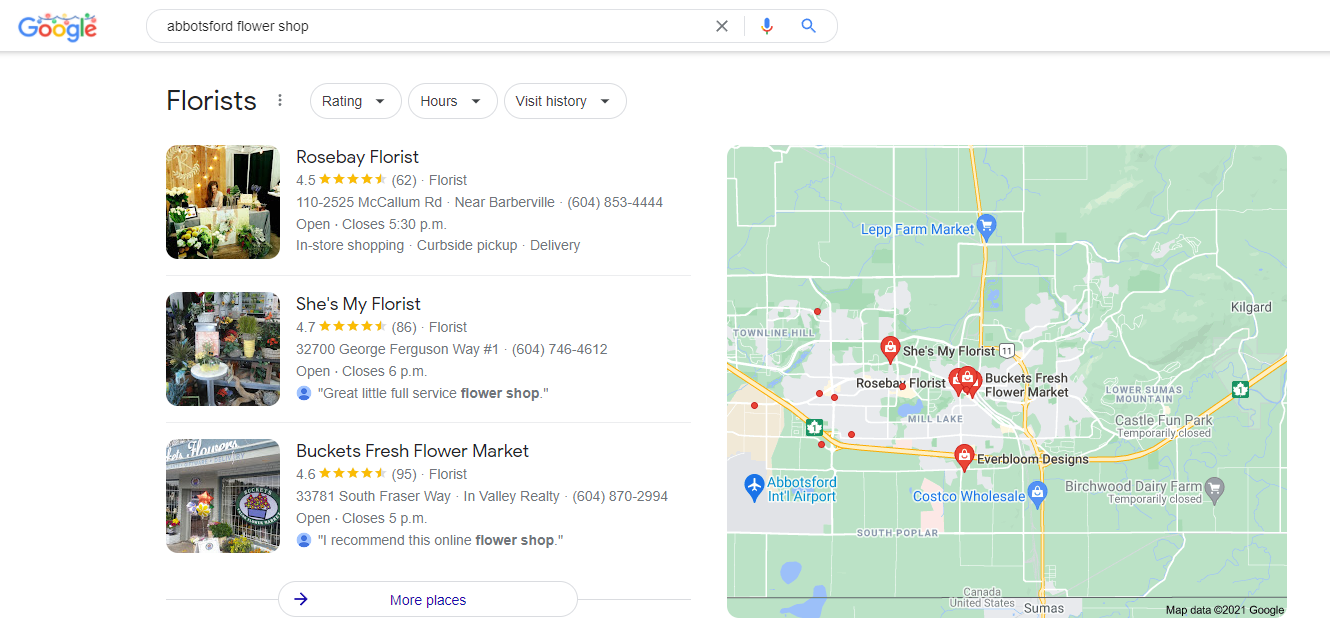 As you see in the above search, "abbotsford flower shop" gives me a local pack (the box at the top) before I see the organic search results below.
What's Local-3 Pack?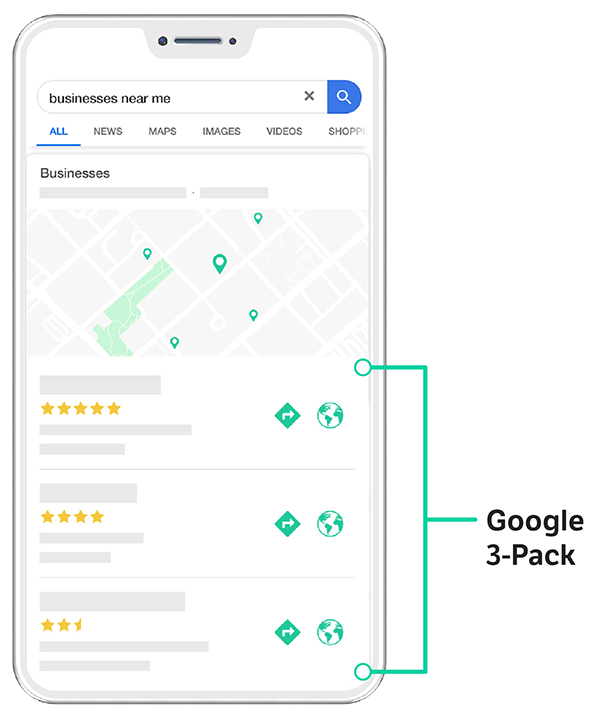 Local 3-pack is essentially a list of three local businesses displayed at the top of the search engine results page. They're a part of a list of a number of businesses located in the vicinity of the search engine user and are placed organically on the list. The search results depend entirely on the IP address of the search user. For example, if a user searches for web designers in Abbotsford, they'll find local businesses close to their exact location-based.
If they move to the other side of the city and search the same keyword on a different Internet network, the order of the local-3 pack results would change as well. This means most businesses can get a chance to shine on the SERPs and get the attention from a wide audience. You would still need to make sure your SEO is on-point and your website quality and content are up to Google's standards.
It's impossible to identify every factor in Google's local search algorithm — Google keeps the specifics under lock and key. We do know, however, that local search rankings tightly correlate with three central elements: proximity, relevance, and prominence.
1. Proximity
Generally speaking, Google wants to serve you the most relevant results, so if you were searching for say a coffee shop, it's not going to send you to the one all the way across town, right? No, it's going to give you results within a reasonable distance of your current location.  This is local proximity at work.
2. Relevance
How well does your local business match what a consumer is looking for? Relevance determines the best match between local business and a user's search. Adding complete and detailed business information helps Google better understand your business and position it according to its relevance to the consumer.
Make sure your business is considered relevant when a potential customer searches for what you offer. And the way to do that is by making sure your GMB profile is as complete, detailed and accurate as possible.
3. Prominence
How well known is your business? Prominence refers to the popularity of a company. It is measured based on the web information Google has about a business (such as links, articles, directories, & customer reviews). Your position in the web results is also included. Thus, SEO practices also apply to local search optimization.
Optimizing your site for Google's Local Pack
There's no extra work required to sign up for your business to appear in Google's Local Pack. These search results are generated through the information in Google's business listings, so if you've set up your business account or your business is already listed in this database, then you should be eligible to appear in the Local Pack.
If you haven't claimed your Google My Business listing yet, visit the Google My Business website and complete the steps to claim ownership. Once you own your Google My Business listing, the best thing you can do is to make sure your profile is optimized for maximum visibility. Google offers a handful of tips to improve your odds of appearing in the Local Pack:
Enter as much information about your business as possible. The more complete your business profile is, the more Google's algorithm is likely to favor you. Make sure your information is accurate and up to date, including your physical address, your business category, and key attributes of your business. This information is used by Google to determine if your business is relevant to a particular search.
Verify your location. Google offers a verification process to ensure the accuracy of location information. This affects not just your Local Pack results, but also your organic search ranking and your visibility in products such as Google Maps. Visit your Google My Business page to check your verification status and complete the process, if needed.
Add photos to your business listing. Pictures of the storefront, interior, menu, and other elements are used by search users to determine whether they would like to visit a business location. Provide these photos to expand on the information available about your business through the Local Pack.
Update information as it changes. If you extend or change your hours, make sure you update your profile. This is true for official holidays: Google lets business owners verify their holiday hours, which can boost their visibility around these holidays by giving users more reliable results in the Local Pack.
Respond to online reviews to demonstrate customer service and engage with your customers. Google's algorithm values businesses that respond to customer reviews, and the company reports that doing so can result in greater visibility.
Wrapping it Up
Google's Local Search algorithm is extremely advanced and there is no easy way around it.  The best thing that you can do is keep adding localized content to your website and Google My Business (GMB) profile in order to keep helping Google understand where you operate. While this isn't the perfect solution, it's where we are for now, and it's not changing anytime soon.